The Allure of Walt Disney World Resort
September 17, 2018
On October 1, 1971, Walt Disney World Resort officially opened in Lake Buena Vista, Fla., which included Magic Kingdom Park, Disney's Contemporary Resort, Disney's Polynesian Resort, and Disney's Fort Wilderness Resort and Campground. Since opening day in 1971, it has expanded exponentially, as well as increased ticket prices. Walt Disney World is the most attended vacation resort in the world. This is mainly due to adults and children alike wanting to  escape from reality to witness and be a part of—"the happiest place on earth."
AHN students frequently visit Walt Disney World for a fun-filled vacation only about an hour and 30 minute drive from the Academy of the Holy Names.
Isabella Ruano ('21) is a Walt Disney World annual pass holder. Ruano said,  "I love Disney World because it's a place where you can relax and forget about school, and the rides are fun."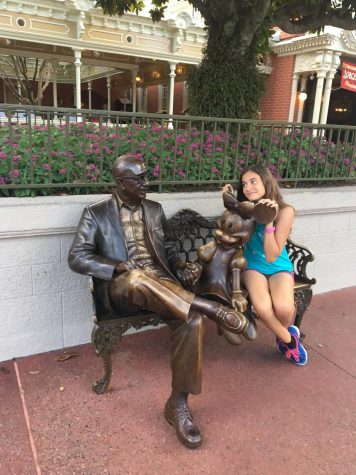 20.45 million people, in 2017, attended Magic Kingdom alone. According to the 2017 global attractions attendance report, between Magic Kingdom, Epcot, Animal Kingdom, and Disney's Hollywood Studios, there was an annual  attendance of about 55.87 million.
Niliyah Coney ('21) has been a Walt Disney World annual pass holder since the age of 3. Coney said, "I've been to Disney maybe about 200 times. I'm not even exaggerating. I go there all the time. I'm probably going back to Disney on Halloween."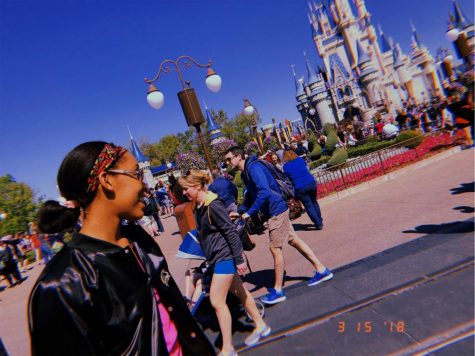 Positive themes displayed throughout Walt Disney World Resort create a welcoming atmosphere for visitors. Located at the entrance is a sign stating "Where Dreams Come True,"  which immediately sets the tone for guests' Disney experience.
Ruano ('21) said, "At Disney, dreams come true; always dream big. I believe dreams come true if you put your mind to them."
Inside Magic Kingdom Park, within Fantasyland, lies "It's a Small World"—a ride which takes riders through all seven continents, in which "It's a Small World" is sung by children. By the end of the ride, the children from all different parts of the world come together and sing. The message it portrays is that if the world was viewed through the eyes of children, everyone of all different cultures would come to realize it truly is a small world after all, where everyone is basically the same.
Anne Wynn, Academy math teacher, said, "Well, I've been going [to Disney World] since I was a little kid. I still have lots of pictures of me as a small child. I think it's the happiest place on earth, and I've sucked in half of the math department, and now we all go together, and it's great."
Although Walt Disney World is popular amongst the public, the ticket prices are not ideal for low-income or large families. In 1971, Magic Kingdom Park tickets cost $3.50. In 2018 dollars, due to inflation, $3.50 would amount to $21.78. Now, a One-Day Regular Ticket for Magic Kingdom Park—prices vary depending on the park and date—costs $119.  
Ruano ('21) believes it is expensive for low-income families.
Ruano said, "I think Disney is too expensive, not the tickets, but all the food. I mean, the tickets too, but the food is very expensive. I do think that low-income families should at least have one chance to experience Disney [World], but at the same time, there's a lot of people and employees to pay."
Walt Disney World employs 70,000 Cast Members (how all employees are referred to at Disney World), making it the largest single-site employer in the United States. Although the ticket prices have increased since 1971, several additions have been added, and the annual attendance has increased, making it a huge operation.
Wynn believes large families would have a harder time to afford a vacation to Walt Disney World Resort, yet she says Disney offers other, more affordable options for customers.  
Wynn said, "Disney is very accessible. You could go to Disney on Ice, and they have lots of different, much affordable come to you options. In terms of like the park, it is a little bit more difficult to get a large family there."