Celebrating Christmas Early Causes Thanksgiving to be Neglected
November 16, 2018
The month of November should be spent celebrating and preparing for Thanksgiving, but this holiday is often overlooked. Instead, people focus only on Christmas, which is still two months away.
On November 1, many retail stores begin to display their large Christmas section. Some stores may have a small Thanksgiving section, and others may not have a Thanksgiving section at all.The Target Christmas section consists of approximately ten aisles filled with different Christmas items including: trees, ornaments, lights, stocking fillers, and more.
"It enrages me that Thanksgiving is being overlooked. Right after Halloween comes to an end, I always see the Christmas section set up already in every store. It's almost as if all the stores are slowly trying to cancel Thanksgiving because each year they set up for Christmas earlier and earlier. I enjoy the holiday so much. I want to see more Thanksgiving," says Julianna Cianfrocca ('19).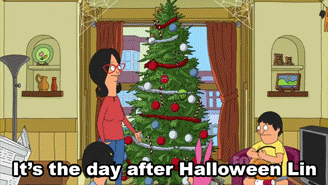 Thanksgiving is a time to spend with friends and family, and to give thanks for all the things in life. Thanksgiving should not be wasted by focusing on another holiday.
"I have noticed that Thanksgiving is overlooked. Right after the Halloween ads stop showing up, all of the Christmas [ads] are everywhere. I enjoy Thanksgiving because all my older siblings come home, and some close family friends come over. We all watch football, cook, and eat food together, and it is really stress free," says Rachael Petrarca ('21).
Listening to Christmas songs early starts the celebration of the Christmas season. On Nov. 5, 2018, Mariah Carey's Christmas song "All I Want for Christmas is You" re-entered the Global Spotify Chart at #177 with 560,000 streams. 
24 years ago, @MariahCarey released the classic "All I Want For Christmas Is You." It has sold over 16 MILLION copies worldwide and has over 750 MILLION streams. It charts every holiday season, and its popularity increases each year. It is dubbed the "Ultimate" Christmas song. pic.twitter.com/VxZUa0CGEW

— Pop Crave (@PopCrave) November 2, 2018
"I celebrate Christmas the day after Thanksgiving by getting my Christmas tree and decorating my house. I love being creative, and Christmas is one of the most festive holidays in my opinion. Although I decorate after Thanksgiving, I begin to listen to Christmas music towards the end of October, right after Halloween. The song I listen to most is 'All I want for Christmas' by Mariah Carey. Christmas is my absolute favorite holiday," says Maddie Boos ('20).