Getting to Know Academy's Favorite Latin Teacher, Ariana Louder
November 16, 2018
Ariana Louder, Academy's singular latin teacher and accompanying lacrosse coach, has been teaching at the Academy for the past five years, however, many students may not be familiar with who Louder is as a person due to how rarely people choose to take Latin when deciding a language. Though she may not be known to everyone, Louder has left an evident impact on those who she has taught in the past and present.
"Ms. Louder was just beginning her teaching career when my class came into her roster three years ago. Immediately, it was apparent that she was passionate about the subject, but conscious of its difficulty and its occasional dullness, and was willing to meet us where we were. Over the years, we grew with her– bonding while struggling to translate the Aeneid, celebrating her engagement. We were so fortunate to have such a hilarious and compassionate person to guide us as we navigated the never-ending intricacies of the Latin language," says Hira Khan ('19).
Louder began her teaching career at Academy fresh out of college, an occurrence which she describes as an act of "fate".
"I had just graduated from college and had no idea what I wanted to do with myself, I took beyond my major requirements in Latin and that seemed like a possible route. I was thinking of going to grad school, but didn't really have a direction. Along with that, I was thinking of being a graduate assistant lacrosse coach and that's when AHN came in. They were looking for a lacrosse coach so it seemed like a good fit, and as soon as I stared interviewing, two latin positions opened up at the school, so really, it was fate," says Louder. 
Louder attended Rollins College, majoring in Classical Studies with minors in Archeology and Political Science. Louder's interest in Latin stems from its interesting and broad subject nature, however it wasn't her first career choice.
"I had originally wanted to be an archeologist but then I realized it wasn't a good career path because you're not really making any money, rather you're spending it to dig at these sites," said Louder.
Though she may not have ended up choosing that career path, Louder still partook in many archeological activities in college, including attending an archeological field school in Vescovado di Murlo at the Ancient Etruscan Site, Poggio Civitate.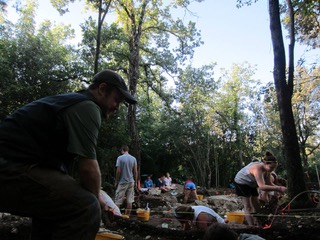 Along with her interests in the Latin subject, Louder's lacrosse career also flourished while she was in college. She began playing Lacrosse in 8th grade because of her best friend and she has been participating in it ever since.
Louder says, "I wanted to be the first girl in Tampa to play NCAA lacrosse in college, it was a big goal of mine."
Louder even admits that one of her favorite experiences while in college was attending two separate NCAA lacrosse semi-finals.
Though much of Louder's life does revolve around Latin and lacrosse, there are a multitude of other activities that she engages in in her personal life that some students may not know about.
"I sing in a choir at church, something I've been doing for years. I also started a garden recently which I've been really excited about. I have the cutest cat in the world, his name is Stark and he's 5 months old I spend a lot of my time playing with him, and I miss him when I have to leave him alone. Something else I do is play trivia every Wednesday night at Beef O Brady's with my fiance, the assistant lacrosse coach and her husband, and other friends of ours we met while playing trivia," says Louder.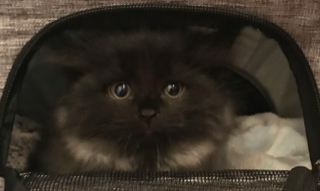 This past April, something very significant happened in Louder's life, her boyfriend of five years, Austin, proposed to her. Louder and her fiance have set the wedding date for June and she is incredibly excited for the event.
"When I came back to school from Spring Break, which is when he proposed, all of my students reacted really enthusiastically, probably a bit too enthusiastically honestly. I definitely wasn't expecting that reaction, but it was heartwarming none the less," says Louder.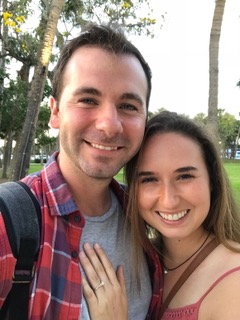 Along with juggling the many different facets of her life, Louder also runs Academy's Costa Rica mission trip, a trip which has been going on for the past few years during Mini Course Week.
Louder says, "A lady I was coaching with did a trip for lacrosse to Costa Rica some years back and I decided to tag a long. Eventually it became it's own thing that I continued when she stopped, and it's something I really genuinely enjoy doing."
Though Louder may not teach as many students as other teachers who have a far more wide arrange of subjects they teach across grade levels, she thoroughly enjoys her teaching experience at the Academy, especially since it is a subject she has such a devoted interest in.
"I like the topics that we get to talk about in Latin. Though it may seem like there's not much room to talk about funny or real world events in such a classically tied subject, we always find a way to make the conversation relevant and interesting. I like hearing how the students talk about it and how they relate to it and interpret it in their own ways," says Louder.