Math Teachers Run in the Disney Races
November 8, 2018
Math teachers Anne Wynn and Megan Dubee spent the past weekend at the Disney Wine and Dine Races.
Wynn arrived in Orlando on November 2, 2018, for the 5k and it was a popular event for families to run together.
https://soundcloud.com/chonanline/anne-wynn-thought-on-disney-race
Dubee joined Wynn November 3, 2018, for the 10k. The races started at 5:30 a.m. in the Magic Kingdom parking lot. After running through the Walt Disney World Resort, the 6.2 mile race finished in the Epcot parking lot. Entertainment and Disney characters are present throughout the course.
The next day, Nov. 4, both Dubee and Wynn ran through the theme parks for the 13.1 mile half marathon. After the race, the participants were invited to an exclusive post-race party.
Wynn competed in her first race in February of 2016 in the Princess Half Marathon. In total, Wynn has run in a total of 12 Disney races and all together she has run 15 races.
Wynn says, "I started running to get in shape and lose the weight I gained in college. I chose Disney ones in hope of them inspiring me to do more and it did. Last school year I was able to complete five runDisney races thanks in part to a wellness initiative through our health insurance. It was the most races I had ever done in a year and it became a new yearly plan."
However, the wellness initiative according to Wynn has been modified affecting her race goals.
"For now, I have completed Wine and Dine, and I'm looking forward to the Princess Half-Marathon and 10k (aka: The Fairy Tale Challenge). Unfortunately, Star Wars has gotten the boot this year."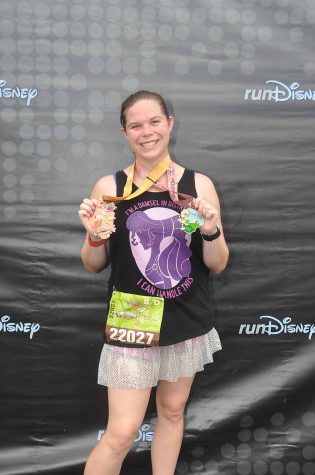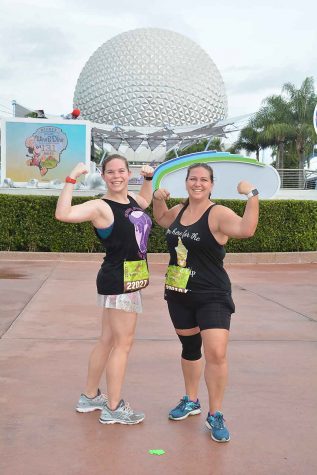 The wellness initiative has also hindered Dubee's future plans.
"Last year I was able to do a number of races, but this year the maximum allowance is three."
Co-worker Jessica Lamm says, "I am very proud of them, however I would not want to wake up that early to run any sort of distance. They always talk about their training. Paying a lot of money to run is just something I can't relate to and find joy in."
Dubee got into running because of her accomplishments list. The list includes 130 different things she wanted to complete before she turned 30 years old; running a half marathon was one of those goals. "I have ran in one marathon, five half marathons, and two 10k runDisney races. My favorite was Marathon Weekend because the crowd support for that one was unreal."