Unicorn Bagel Comes To Tampa Bay
November 2, 2018
18 Bagels Company opened earlier this year in June on the corner of Kennedy and South Dale Mabry is a unique restaurant that puts a new spin on New York bagels.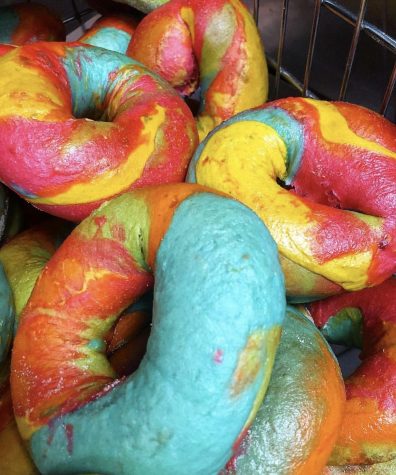 The menu offers a wide spread variety of food from bagel pizza to salads and of course the bagel staples such as everything, asiago, egg, jalapeno cheddar, onion and poppy seed but the item that has become the most popular is the unicorn bagel. 
The unicorn bagel is a multicolored bagel that is unique each time you order it. It is $3.49 and so worth it to get the perfect instagram photo. The bagel was fairly large and filling it would be a great breakfast stop on a late start Wednesday morning as they also have breakfast sandwiches and coffee. 
The owners of 18 Bagels also own Yougurtology, which is where they got the inspiration to make the bagel toppings unique and customizable. You can add anything you want to the cream cheese portion of your bagel from Oreos to fruit.
Overall the atmosphere is very modern and sleek. The restaurant which used to be Brooklyn Water Bagels is a medium sized space with many tables and booths making it a great new study spot. The food was unique and good quality I would recommend 18 Bagel Company.