AHN families with small businesses
December 3, 2018
Many AHN girls have parents who own small businesses throughout the Tampa Bay area. 
Small businesses in South Tampa have been becoming more and more successful and Academy girls have become involved in them because of their families.
Junior Olivia Perez is a part of the Mr. Empanada family that all began with her grandfather and is still continued by her grandparents and her aunt. With many locations and widespread catering, it has become a growing company throughout Tampa Bay.
Perez ('21) says, "Mr. Empanada is a family business that began with my grandfather. He used to cook empanadas for the people in his neighborhood when he was young and they became so popular that he opened up the very first restaurant in Ybor City. Both my dad and his family worked there, selling and making the empanadas that everyone loved. I am proud to say that everything on the menu are my grandmother's and grandfather's recipes and the business continues to be run by my grandparents."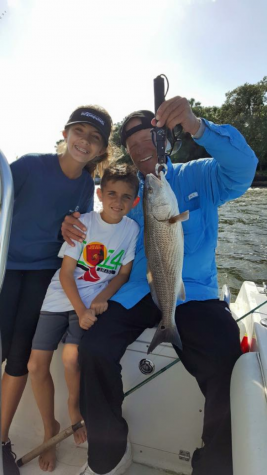 Perez also said, "Mr. Empanada has always been a big part of my life and I have been eating those empanadas since I was little. I have worked the past three summer at one of the locations, which has really got me to thinking about going into the family business as well."
Sophomore Chandler McKnight is involved with The Haute Shop located on S Dale Mabry Highway because her mom is the founder and owner.
Chandler McKnight ('21) said, "The Haute Shop is a women's clothing boutique that is located in both South Tampa and Lutz. The South Tampa location open about three years ago, and the Lutz location open this past summer. My mom, Jocelyn McKnight and her business partner focus primarily on finding and selling cute, trendy, high quality, and affordable clothing for women."
McKnight also says, "The Haute Shop is important to my family and I because it is a big part of my mom's life and we all help out in anyway we can. I love both of the local locations and it is very fun to help out when they need it!"
Senior Chloe Kruszewski is proud to be affiliated with Academy favorite, Pane Rustica. Located right across from the AHN campus, it has become a popular stop for the girls, especially for their famed pizza.
Chloe Kruszewski ('19) says, "They have been in business for the past 19 years, and still enjoy what they do every day. As I have been growing up, I enjoyed having a restaurant. My parents are always super busy with the work that they do every day. Pane Rustica is such a big impact on not only my parents life, but my life as well. I always have somewhere to go and eat. My parents are blessed and grateful every day of the success that they have made over the last 19 years. I enjoy having a business, but sometimes it is super stressful for my family because of all they things that they need to do in order to keep their business running."