A Closer Look at Academy's Creative Writing Class
January 23, 2019
Academy offers Creative Writing I and Creative Writing II. Creative Writing I creates the material that will be featured in Academy's literary magazine, "Excursions." Creative Writing II consists of the editors that put together the magazine. The students are given prompts from English teacher Dr. Lauren Oetinger, who teaches the class. Excursions is published at the end of each year, and is available to all Academy students.
Some of the students in the class find writing to be a hobby for them and something that helps them deal with stress.
"We get all of the poems, one acts, and writings from Creative Writing I and II, and we put it in the Google doc. From there, we narrow it down, and then we decide which ones we want to choose to go into the literary magazine. I like writing because it is a very good thing for me when I want to have a stress reliever. I might have it as a minor [in college]," says Chanita Belcher ('19).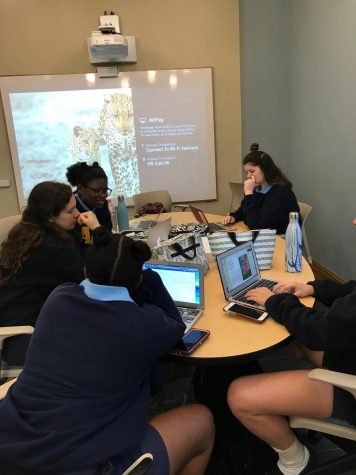 Oetinger helps her students think creatively by giving them prompts where they can make it their own.
"One of the things we do to do in order to do creative thinking is that Dr. O will give us prompts that are usually super vague. One of them was that you have to have an argument between two people, but you can't mention what the argument is about. It sounds hard at first, but when you think about it, a lot of people have underhanded arguments and forget what they were are arguing about. [Dr. O] really helps us think outside of the box. It's cool how everyone's work is so different from one another, so it makes it fun to read. That's why I like being an editor because it's fun reading other people's work," says Lauren Dingle ('19).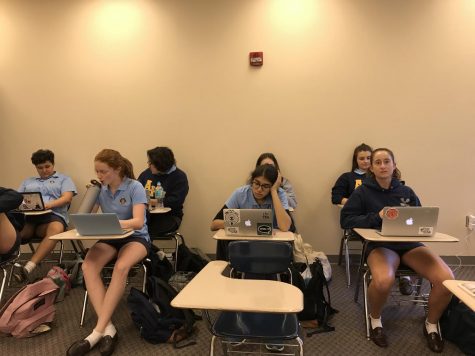 The girls in the class are currently working on writing short stories.
"The actual genres we work on vary from semester to semester. It is largely based on the interests of the students. Last semester, the girls were really interested in writing one acts. This semester, the girls were interested in writing short stories," says Oetinger.
"'Excursions' will be published on May 2 of this year, and can be accesses through iBooks," says Summer Wolf ('19).