AHN Students Start "Go Gold Campaign"
February 22, 2019
The Go Gold campaign is a student run campaign started by AHN juniors Lauren Jones and Katelyn Chau in January of 2019 to raise funds to help find a cure, fund cancer research, and  to help families dealing with medical bills. The campaign as of now has raised about $19,000 with a goal of $50,000. It is a seven week campaign that will end in March.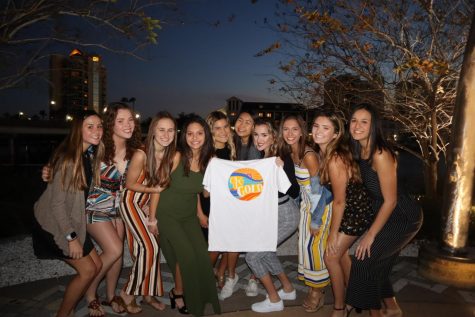 "I got involved because my best friend had leukemia. It was really hard for me to see her go through treatment at such a young age. I couldn't imagine how hard it must have been. That made me want to do something to make a change because so many people are affected. I feel like everyone on the team is so dedicated to the cause and are motivated to make a difference," said Caroline Corcoran ('21).
"My grandfather passed away from neuroendocrine lung cancer and my uncle is currently battling cancer. This gave me the drive to do something that could make a difference and raise awareness," said Abbey Crowther ('21).
Crowther feels that the campaign is unique because it is not only with AHN girls, but it is also with people from schools all around Tampa which makes raising awareness much easier.
"We each have teams within our schools to see who can raise the most money. The competition gives us all more of a drive to raise awareness and money," said Crowther.