People React to the Justin Bieber Pregnancy April Fool's Joke
April 4, 2019
Justin Bieber recently posted a picture of an ultrasound on April 1, claiming his wife Hailey Baldwin was officially pregnant. However, many people were quick to question the photo, saying it may be an April Fools joke.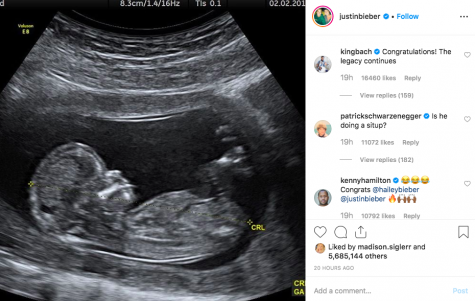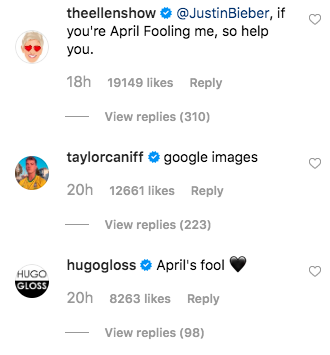 Once Bieber realized many people may be catching on to the prank, he proceeded to post pictures of Baldwin on a doctor's table. He captioned the photo, "If you thought it was April fools."
People began to think it was not a prank, and that Baldwin and Bieber were pregnant with their first child. Numerous news stories were published about the famous pregnancy and have since been deleted from online sources.
Me trying to understand if Justin Bieber is pranking us for April's fool or is really going to be dad pic.twitter.com/KAsvSGBUcU

— just a poser (@AlmostCalledYou) April 1, 2019
However, a few short hours later, Bieber posted another photo depicting an ultrasound with a photoshopped puppy instead of a baby. He claimed that the entire thing was an April Fools prank with no harm intended.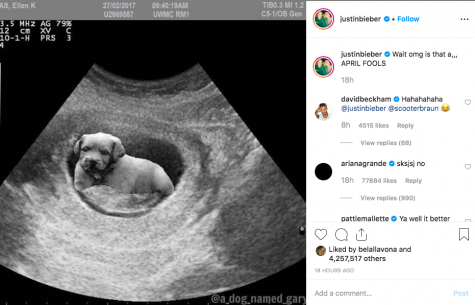 Many were quick to respond to the unfolding of Bieber's prank. Some claimed the entire prank was insensitive towards those who experience fertility issues, such as miscarriages or being diagnosed as sterile and unable to have children.
History teacher Beth Chase says, "As you are telling about the joke, I am thinking that it is a little insensitive. There are people who suffer with infertility or miscarriages and this joke could hurt them."
Justin Bieber…you should be ashamed. Joking about pregnancy is no April fool's…let's hope you never have to go through infertility or the loss of a pregnancy..shame on you!! 😡😡

— †KayKay† (@KayViolette22) April 2, 2019
Hey Justin Bieber, 1 in 8 struggle with infertility. 1 in 4 has suffered a miscarriage. Pregnancy is not an April Fools joke. https://t.co/2ZGaNLILMD

— Ben Jones Jr (@sirbenjaminjr) April 2, 2019
Some believe Bieber was not in the wrong at all for his prank.
Theology teacher Felix Kalinowski says, "I believe people are being too sensitive. Anything you say now can offend someone."
Isabella Ferrie ('21) says, "It was just a joke and the fact people are getting offending is so weird to me. I thought it was nice he apologized anyways and wrote the little paragraph."
If y'all mad that justin Bieber's April fools was claiming he was having a kid then you're the DEFINITION of sensitive. Everyone jokes about being pregnant on April fools. It's not "insensitive because some people can't get pregnant" this world nowadays jeez.

— Jaz (@jazminnn_w) April 3, 2019
If Justin Bieber's April fools joke is insensitive to people who can't get pregnant then that means every person who stuck a ball up their shirt as a kid to pretend to be pregnant was trying to offend them as well… pic.twitter.com/xEm16Llxhe

— Kat (@flamingsparkle1) April 2, 2019
However, there is a middle ground found amongst some Academy students.
Chanita Belcher ('19) says, "I saw the posts as he was doing them, and I never really thought anything of it. I can see how it is offensive to some people who suffer from fertility problems, but personally I have never experienced anyone in my life who suffered from a miscarriage or infertility. I think that's why I never realized it could be offensive to a group of people."
Sydney Lowman ('19) also had an opinion on the prank.
Lowman ('19) says, "I can completely see why people are offended, and he was right to apologize to those people because he hurt them. At first, I did not see that it could be offensive, but as people starting talking about it online and the actual statistics of the amount of women who undergo and are affected by fertility problems in their life, I realized the prank harmed more people than he ever intended."
Bieber has since taken to Instagram with yet another post, sharing his side of the prank in response to the backlash.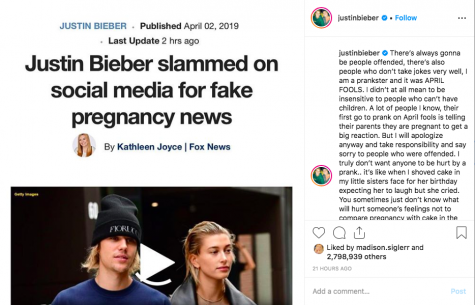 His caption states, "There's always gonna be people offended, there's also people who don't take jokes very well, I am a prankster and it was April Fools. I didn't at all mean to be insensitive to people who can't have children. A lot of people I know, their first go to prank on April fools is telling their parents they are pregnant to get a big reaction. But I will apologize anyway and take responsibility and say sorry to people who were offended. I truly don't want anyone to be hurt by a prank.. it's like when I shoved cake in my little sisters face for her birthday expecting her to laugh but she cried. You sometimes just don't know what will hurt someone's feelings not to compare pregnancy with cake in the face but it's just to paint the picture of not knowing what will offend. Some might have laughed but some were offended .. I think With pranks [you] sometimes have to roll that dice."
Although Bieber responded to his huge following on Instagram, people were still upset with the way he worded his apology.
"But I will apologize anyway…" THAT'S not apologetic. ANY (grown) female will tell you that pregnancy jokes are NOT ok. There's women who can't conceive or miscarried. We all know someone. But we don't know how many grieve quietly. Sometimes you have to think "big picture". 💔 pic.twitter.com/8Oo8Q6f0A0

— Jessica Ann (@jessieann8213) April 3, 2019
Alondra Quinones ('19) says, "I understand why he received backlash because it was a little insensitive, but also I have seen so many videos of people pranking their parents saying that they are pregnant just to get a funny reaction. What he did seemed harmless to him, and I think that if he knew it was going to hurt people, he would not have done the prank."