(Photo Credit: Julie Snyder/Used with permission)
The Migrant Education Program Comes to Christ the King Carnival
April 30, 2019
Last Saturday, April 27, the Migrant Education Program brought dozens of children to the Christ the King carnival. The kids were chaperoned by Academy and Jesuit students. The children got to play carnival games, go on some rides, and get their faces painted. The event was organized by Julie Snyder.
Snyder commented, "This event is only possible because of Christ the King who donates all the wristbands to the children and to the volunteers as well as providing them with lunch, drinks, and snacks all day, then for Jesuit high school who provides transportation for the kids every year, and Coach Kaiser who volunteers to drive the Jesuit bus on his day off and all the Academy and Jesuit student volunteers."
One of the Academy volunteers, Mackenzie Ker was a chaperone for two little girls both named Anna. The two girls were in first grade and eager to walk around the carnival. Ker said this was her first time attending the event, and it was a blast.
Ker stated, "I had so much fun with the girls at the carnival. We went on rides like the bumper cars, we went through fun houses, and area 51. After walking around and going on rides, we went to grab some lunch and watch the performance that was going on. The young girls went to get their faces painted and then went to play some games. One of the games they played was the carnival game where you can win a fish and the girls both got their own. They looked so happy when they left. It honestly made my whole day."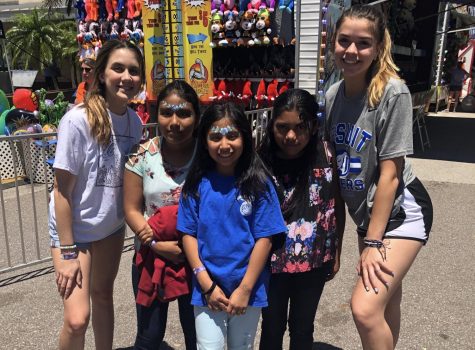 This organization helps to provide educational programs for migrant children. This event helped brighten their day and the children left with big smiles on their faces.