Senior Takes on Morse Code
August 29, 2019
Senior Katelyn Chau has always been intrigued by Morse Code, and on one late summer night, she decided to take it on.
"Learning Morse Code was something very spontaneous for me this summer. It was something always on my bucket list, but I never carried it through. One night, I was deep into the depths of YouTube when I came across a video saying "Learn Morse Code in 15 Minutes" I thought, 'Well, I have 15 minutes to spare!' So by the next day, I had learned the entire Morse Code alphabet, and I began nagging people with my newfound skill," said Chau.
Morse Code was invented in the 1830s by American artist and inventor Samual F.B. Morse. The purpose was to transmit signals through electrical telegraphy in order to communicate via an arrangement of dots, dashes, and spaces. Morse Code is most notable for its use in World War II, the Korean, and Vietnam wars and was adapted in 1938 to accommodate various languages through the creation of International Morse Code.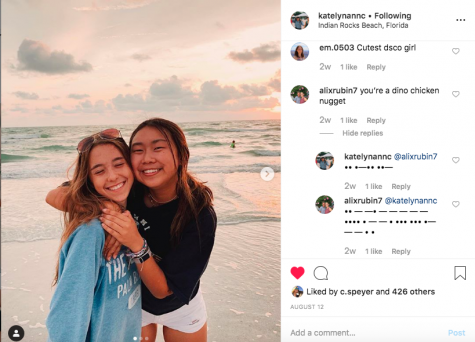 "The concept of being able to communicate through sequences of dashes and dots was strangely intriguing to me. However, because Morse Code is an entirely separate language than English, I never had the motivation to carry through with this aspiration." 
Chau has translated this new talent to her sister, whom Katelyn compelled to also learn morse code. Through the beat of the taps, the sisters can speak through bedroom doors and communicate "alligator" silently across a table. 
 Although Morse Code is not very practical in the modern world, learning a new skill was something that Chau wanted to achieve before the new school year. Understanding the fundamentals of communication is a trait that is now unique to the senior, who plans on practicing this skill throughout her final year of high school. 
"It made me feel like a colonist in the late 1800s, tapping on his telegraph to relay information across the country. It's a lot of fun really, learning something that can never lose its value over time." 

Loading ...