Spotlight: Mary Kelly Cardillo's Passion for Photography
September 22, 2019
Academy senior, Mary Kelly Cardillo, has been drawn towards photography since a young age. However, she did not actually pick up photography since her sophomore year at Academy. She loves taking photos of her family, friends, and just whatever she thinks looks good in the moment. 
"I started to take an interest in photography sophomore year when I started a photography class at Academy. I've always been into art and I feel like photography has been my little niche. I really like the way that film looks, but I don't usually take phone pictures, instead I take it on a digital camera," says Cardillo.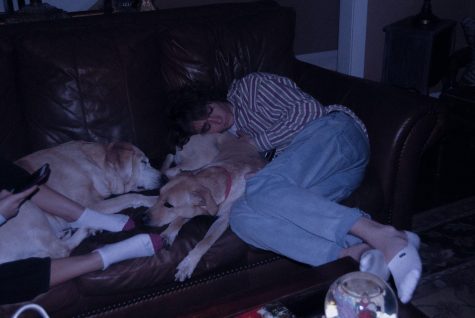 Cardillo has an Instagram account, called @mkphotos, where she posts some of her all time favorite photos she has taken.
"I started my account because I wanted to go further than my photography class sophomore year and go take pictures and edit them in my own and I thought that this would be the best way to get my work out there," says Cardillo.
Cardillo says she does not necessarily have a certain aesthetic that she likes to stick to. Rather, she is very versatile with her photos, taking a variety of photos of whatever feels best in the moment.
"I like to take both portrait and candid shots rather than posed. I would not necessarily say I have an aesthetic. Instead, I kind of take pictures of whatever looks good in the moment," says Cardillo.
Cardillo expresses her reasons for taking candid, unplanned photos, rather than posed. 
"I would say that the best pictures are the ones that are very candid and raw and do not have a lot of editing done to them and are just beautiful on their own. I like to capture the little, genuine moments in life," says Cardillo.
Cardillo says she gets inspriation from several different Instagram Photography accounts.
Cardillo says she sees photography in her future, not career-based, but rather pursuing it as a hobby instead.
"I do want to continue photography as a hobby in the future, but not as a career," says Cardillo.
Cardillo even has her own unique things that she likes to do to her pictures, including adding cool edits and using disposable camera as opposed to a professional one. 
"Disposable cameras are now a big trend again and I definitely hopped on that and I really liked the way that they turned out," says Cardillo.