Cross Out Cancer Prepares for Fifth Annual Race
October 4, 2019
Saturday, November 16, 2019 will mark the fifth annual Cross out Cancer 5k race held at Picnic Island. Cross Out Cancer, Inc. is a student led organization that raises money for pediatric cancer patients at John Hopkins All Children's Hospital. The organization is composed of high school cross country runners from across the Tampa Bay area and its executive board includes two AHN students, Megan Hughes ('20) and Grace Odmark ('22).
The nonprofit organization, Cross Out Cancer, was started in 2015 by Academy alum Lizzie Dolan ('17) and was handed down to other Academy alum Greta Dieck ('19), who graduated last May. Hughes, the secretary of the executive board, will be coordinating the 5k race this year alongside Jesuit high school senior Sean Doherty. 
"We're looking to grow the race into a community staple–something that people look forward to each year. We hope to see that more of the local youth are working to make a positive change for a meaningful cause," said Hughes.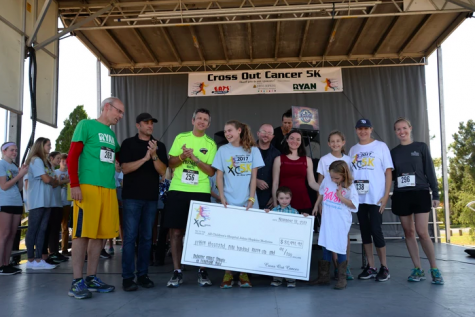 The Cross Out Cancer organization has set a goal to raise over $45,000 this year for the patients at John Hopkins All Children's Hospital. 
"We've been working on securing more donors  because we have a lot of new people in our organization this year. While securing these donations, we're also working on increasing the support from the community for this event, " said Odmark.
By 2020, Cross Out Cancer aims to have raised over $250,000 and affect over 200 families at John Hopkins All Children's Hospital. 
Cross Out Cancer has already begun events throughout the Tampa Area including fundraisers at Chipotle and Tijuana Flats where a percent of the purchases went to the organization.
AHN Cross Out Cancer members plan on hosting more fundraisers, such as a cycling night at SoHo Cycling on Oct. 30 and Nov. 10 to raise funds for the donations to John Hopkins.
"We hope to have close to 600 participants this year to meet our goals. I strongly encourage everyone to sign up because there is both a walking and running option for the race," said Odmark.
This year's race will take place at Picnic Island in Tampa and registration for the mile walk or 5k run has already opened. The cost to register is currently $30 which will increase on November 10, which is the week of the Cross Out Cancer 5k.
Registration to volunteer at the 5k is also open and those interested can sign up here.