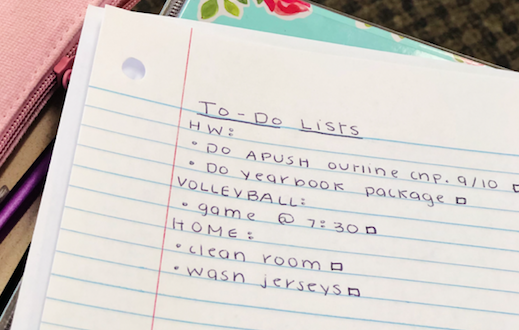 (Photo Credit: Kathleen Thomas)
How to Master Productivity
October 14, 2019
After long days at school, students tend to feel wiped out. They constantly want to go on a brain-breaks, leaving their work until the absolute last second. This can lead to procrastination and poor sleeping patterns.
Productivity, the key to self-improvement, is a skill that many students have yet to perfect. In order to achieve productivity, one must master the task of controlling their downtime and understand how to be productive. 
Productivity and procrastination go hand in hand. The first step to tackling procrastination is understanding how it works. According to Psychology Today, procrastination is dependent on self-control and motivation. These are both major push factors for productivity. 
There are also factors that can either stop or hinder productivity. Factors that can hinder production could include technology and social media. As tempting as it is to tune into Instagram or a dramatic Netflix series, try taking a break from the screens and completing a necessary task.
Finding the willpower to use self-control is essential to defeating procrastination. Willpower is the strength to get rid or distractions and get to work. In order to discover this internal motivation, one can utilize goal-setting, organization, and downtime.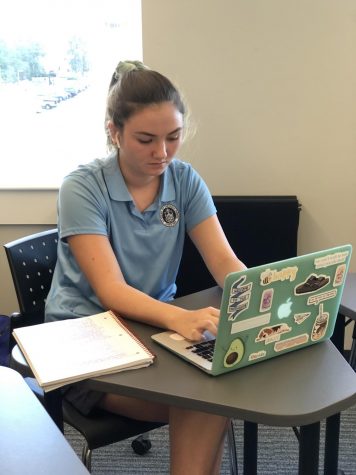 While setting goals, one should always strive for achievable objectives for the time-frame they are working with. If one only has a week to complete a task, they should space it out accordingly and keep in mind how much time they will need. It is also very helpful to write goals down. According to a study conducted by a team on the Huffington Post, one is 42 percent more likely to successfully complete their goals when they are written down.
Ever heard the saying "clean room, clean mind"? Taking this mantra into action, one can use organizational tactics to produce higher productivity. By organizing their tasks into lists, journals, or even cell phones, one becomes able to visualize what needs to be done. Being organized also reduces stress and can lead to healthier sleeping patterns.
Manifesting productivity for the next few weeks so I can do well on all my midterms pic.twitter.com/5rKRnA6khS

— 𝓛✨ (@hautereveuse) October 13, 2019
"I think that at the beginning of the week, I get a lot of work done and by the end of the week I'm less productive. Probably because I don't get enough sleep," said Martina Bain ('23).
As Bain pointed out, sleep has a huge input on productivity. As humans, we need sleep in order to function properly. Sleeping can provide one with the ultimate boost needed to create self-control and motivation.
Although downtime is generally considered wasteful, it is very beneficial to recognize one's limits and be able to enjoy a break from obligations and responsibilities. The skill of productivity derives from understanding and valuing time. According to the Harvard Business Review, downtime can help promote both productivity and creativity. 
Using downtime as a recovery break is important for maintaining mental health and productivity. Academy freshman Sophia Odmark ('23) feels the strain of not having enough downtime. After school. Odmark participates in both the Quarter Notes and Cross Country. 
She said, "We don't have enough downtime and our recreational activities are both physically and mentally draining." 
Self-care may seem tedious or time-consuming, but it can be very simple and effective. Try any of these quick self-care activities and see if an immediate difference can be felt:
Face mask.
Take a bath.
Go on a walk.
Listen to your favorite playlist.
Bake or cook.
Put the phone far, far away.
Try a new workout.