Justin Bieber Marries His "One Less Lonely Girl", Hailey Bieber (Baldwin)
October 16, 2019
On September 30, 2019, Justin Bieber and Hailey Baldwin finally tied the knot during their long awaited wedding. Previously in 2018, only 2 months after getting engaged, the couple had a "secret" wedding in a New York courthouse, but during this South Carolina wedding 154 guests attended. 
"I follow both Justin and Hailey on Instagram and I was so happy to see their wedding pictures on my feed they were so wholesome," said sophomore Ashley Jones. 
This guest list consisted of many of their fellow celebrity friends, including Camila Morone, Kylie Jenner, Justine Skye, Usher, Jaden Smith, and many more. Specifically, the venue was Somerset Chapel of Montage Palmetto Bluff hotel in Bluffton, South Carolina.
Of course, the most interesting part of the wedding is what the bride wears, but when Justin posted an instagram slideshow of odd tuxes fans were very intrigued. Some of these absurd tuxedo options included a rainbow pattern, banana design, and an all white tuxedo but with blood stains. 
As amusing as Justin's tuxedo options were,  Hailey ended up stealing the show with her lace wedding dress and amazing veil designed by Virgil Abloh. At the end of the long veil, in large font, the newly weds vows can be read: "Till Death Do Us Part". 
Although Hailey was obviously the center of attention, some people were made upset by Kylie Jenner's outfit choice for the ceremony. Usually, it is a known "rule" that guests should not wear anything that would compete with the bride. Meaning, guests should not wear anything too flashy or revealing, and most importantly, white. Although Jenner followed the no white guideline, the metallic one shoulder high-shine gold foiled cutout dress designed by J'Aton Couture was certainly both flashy and revealing. 
https://www.instagram.com/p/B3FzI8jJNNt/?utm_source=ig_web_copy_link
"Her dress was very 'out there' and I do think she should've worn something more understated to give the bride her moment," said senior Ava Accardi. In disagreement though, another Academy student, sophomore Jane Ruppel, said "I think Kylie's dress was really pretty. It was very showy, but what else could you expect from a billionaire?". 
There were many contrasting ideas about Jenner's fashion statement. Many people on Twitter were criticizing Jenner for potentially upstaging the bride, while others praised her for her amazing ensemble of an outfit. One twitter user said, "Show up to my wedding looking like Kylie Jenner at Hailey & Justin Bieber's wedding and you will be escorted out lol," while another said "lmao ppl are slandering Kylie Jenner bc of the dress she wore to hailey's wedding……,y'all are gonna stop expecting people to tone themselves down bc u couldn't come hard. drip or drown."
Although many people were upset over Jenner's outfit, Hailey nor Justin commented about it. People, like senior Ashley Mackinnon, continue to stick up for Bieber though. "It's just a general rule of thumb that you don't upstage the bride," said Mackinnon. 
A reason why this is such a debatable subject is because many girls can relate to being out shown by a friend on a special occasion. For a person's special event, like a birthday or graduation, a true should be excited for that person's accomplishments. With this, a true friend should respect the fact that, for the time being, that person deserves all the attention because the occasion is celebrating them.

Many Academy girls can relate to this happening during their special event. Senior Natalia Fonseca told a story relating to this. Her freshman year she hosted a birthday party for her Quinceanera. The theme was "black and white" because she would wear a red dress to stand out on her special day.
"I remember she was so excited about this theme because she would stand out for her special day," said Alinna Aspiro ('20).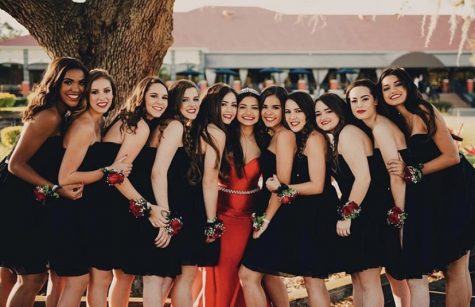 Apparently though, some of the guests did not receive the black and white memo. When Natalia walked out and saw not everyone was dressed to the theme she was disappointed.
"Of course, I wanted everyone to follow the theme, so I was frustrated. I did not let this ruin my night though, I still had fun with my friends and the Quince turned out to be a lot of fun," said Fonseca.