The Gentrification of West Tampa
March 30, 2020
The city of Tampa is constantly changing, and our skyline is ever-evolving. Hillsborough County came in 10th in the nation for counties with the most population growth for 2018 with almost 27,000 new residents moving into the area. With a steadily increasing influx of people, new construction sites seem to popup every day as the city pushes for redevelopment projects to improve the existing landscape. Of course, gentrification has occurred as a side effect of these changes.
"It's really crazy just how fast the city has been evolving. It seems like every time I drive by somewhere I haven't been for just a few months, there's so many new things that weren't there before. In a way, it's like every time I visit somewhere, it's like a new city each time. It's so wild," said Maddie Glaum ('21).
Tampa is trying to turn every neighborhood into an affluent one.

Not sure why renovation can't exist without gentrification.

— COCO✨💕 (@COCOtheVIRGO) February 20, 2020
As defined by Merriam-Webster dictionary, gentrification is "the process of repairing and rebuilding homes and businesses in a deteriorating area (such as an urban neighborhood) accompanied by an influx of middle-class or affluent people and that often results in the displacement of earlier, usually poorer residents."
Urban renewal, as seen in several parts of Tampa, can lead to the gentrification of old neighborhoods and urban areas that result in the displacement of poorer residents. What is occuring in West Tampa specifically has to do with the construction of commercial, recreational, and residential buildings such as Armature Works, The Pearl Apartment Complexes, and Julian B. Lane Park.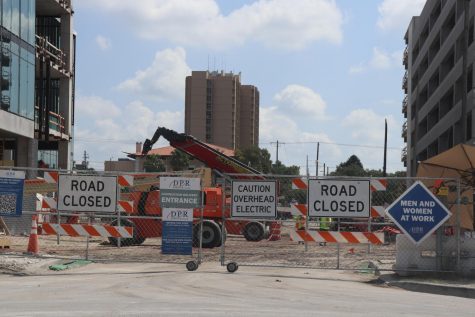 "I was born and raised in Tampa and have lived here most of my adult life. I am very happy to see the changes that have taken place, especially the revitalization of historic neighborhoods such as Ybor City, Seminole Heights and Tampa Heights. These are improvements that are great for Tampa as it helps us to attract companies and workers that will contribute to our economy. I love Armature, downtown green space, and more because all of this has transformed our riverfront! However, our government and business leaders need to make sure that we have affordable housing and reliable transportation for the economically disadvantaged. So that is our main challenge," said High School World Language Department Chair Micky Stagg.
Long term residents of these areas, typically Black or Hispanic residents, are selling their homes to developers who then demolish the older houses to build new ones. The new houses are then sold at more than triple the original amount to incoming residents, who are typically white single millennials or young families.
"Though gentrification may have good intentions at its core, I definitely think the negatives outweigh the positives. Minorities with low incomes often live in the areas where gentrification occurs, and wealthy investors end up taking the land and demolishing buildings, businesses, and the culture established there. These minorities then become displaced," said Sahar Bueno-Abdala ('21).
Over the last couple of years, the last forms of affordable housing – such as Tampa public housing complexes like the North Boulevard Homes, Central Park Village, Ponce de Leon, and College Hill Homes – were demolished to make room for other mixed-income housing. As a result, over two thousand public housing residents were forced to relocate. The city's commitment to the re-development of West Tampa has caused private investors to flood the area and price out the old residents.
All of the construction in West Tampa has caused old, historic neighborhoods like Seminole Heights to become "trendy" and "hip" neighborhoods. As a result, the cost of living in these areas has increased dramatically over the last few years, and lower-income residents are being pushed towards other areas of Hillsborough county. With few affordable options left in the city, residents are not given any other choice.
"West Tampa residents have nowhere to go for any economic or social relief as, most of the time, that area was their only option," said Bueno-Abdala ('21)
Overall, the gentrification that is occuring in West Tampa could be avoided if the city of Tampa invests in maintaining affordable housing and living prices in the affected areas. Revitalization does not always result in gentrification, and the right investments could ensure that all areas of Tampa remain affordable and accessible.