Breaking Down 2020's Spotify Wrapped
December 9, 2020
"Spotify Wrapped" is a tradition for many Spotify users, coming out every December and telling each user what their top artist and song of the year was. It even allows you to view how many minutes of music you listened to this year. 
There is a section on the homepage of the Spotify app where you can see all your 2020 Wrapped statistics. This includes a playlist of your most listened to songs of the year, and an entire breakdown of how much music you listened to, including top artists, tracks, and genres.
5sos is trending so i would like to share … HOW DID I MANAGE TO LISTEN TO THEM SM #SpotifyWrapped pic.twitter.com/WS9oJD2V8P

— chloe (@L0VER0FCHL0E) December 2, 2020
Grace Carreja ('23) said, "This year my top artist was BTS. This was very accurate because they are my favorite band and I definitely listened to them more than any other artist this year." 
Spotify Wrapped also puts out a list of the most streamed artists and songs of 2020. The top three most-streamed artists were Bad Bunny at number one, Drake at number two, and J Balvin at number three. The most-streamed tracks of the year were "Blinding Lights" by The Weeknd, "Dance Monkey" by Tones and I, and "The Box" by Roddy Ricch.  
So many memorable hits 👏

These are the Top 10 Songs of the year on Spotify ⤵️ #2020Wrapped pic.twitter.com/RoS5G27GLM

— Spotify Charts (@spotifycharts) December 1, 2020
This year's Spotify Wrapped includes new features like quizzes and badges. Some badges showed how many songs you added to playlists and how many people followed your playlists. The app even told users what percentage of listeners they were in for their top artist of the year and what decade they listened to the most music from.
Spotify also added a new feature, telling users how their listening habits changed during the pandemic. There were increases in the number of playlists created for activities like cleaning and working out. Sophia Swezey ('23) said, "I think that this year because of quarantine I've spent a lot more time listening to music because I didn't have a lot to do. I used Spotify a lot just while I was working on things for school or even when I was cleaning my room."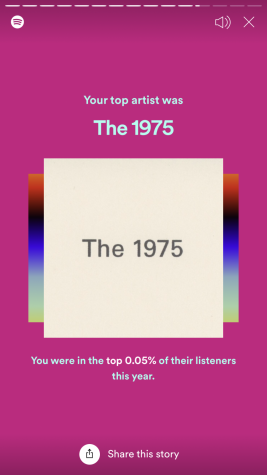 Although many people were happy with the results of their Spotify Wrapped, many others questioned the accuracy of theirs. Part of the reason for this could be that Spotify Wrapped only counts data from January 1 to October 31. 
Julia Lombardi ('23) said, "Since it only went until the end of October it didn't count any of my recent songs and artists that I've been listening to a lot and if they were included it definitely would have been much more accurate." 
If you think that your Spotify Wrapped results were inaccurate, there are other websites you can look at to see more in-depth information on your streaming habits. You could connect your Spotify account to the Last.fm app, which counts all of your Spotify streams. Another website called Stats for Spotify shows your most streamed songs and artists since you first downloaded Spotify.
spotify wrapped: pic.twitter.com/H84ZEAeXYS

— mitski (@mitskiIeaks) December 2, 2020