How Does Digital Amnesia Affect Teenagers?
January 13, 2021
In October 2020, AHN seniors signed up for the Florida Bright Futures Program during advisory, where counselors visited each classroom to assist students. Filling out the application was simple for the most part, except for one question that prevented many from completing it quickly — "what is your Social Security number?" This same question often appeared when filling out financial information on college applications. I will admit that as a seventeen-year-old, I have not memorized my Social Security number.
Teenagers often store phone numbers, Social Security numbers, and important dates on their phones. People do not recall important information since they believe they can easily retrieve it from their phones. However, relying on technology can be harmful since phones can be stolen, lost, or damaged, leading to personal information loss. In times of emergency, access to a phone or contact list may not be available. "Digital amnesia" results from our dependence on technology. It can prevent the formation of long term memories, lowers the ability to track money and calorie intake, and interrupt sleep patterns.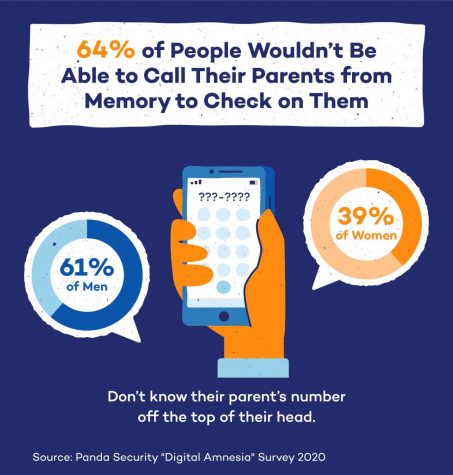 A Social Security Number (SSN) is a nine-digit code that was created in 1935. In the past, the first three digits were the area number, the next two digits were the group number, and the last four digits were the serial number. The Social Security Administration (SSA) changed this method in 2011, and now the numbers are randomized. A SSN is used to open a bank account, apply for a loan, track credit records, obtain credit, buy a home or car, and many more things. It is safer to have your SSN memorized than to carry the card.
I feel like you're officially considered an adult once you have your social security number memorized 😂

— Sade Yinger (@sadeyinger25) June 11, 2019
"I do have my Social Security number and both of parents' phone numbers memorized. I think this is important information for teenagers because we depend on technology in everyday life, and phone numbers and Social Security numbers are important information that can be very valuable when interacting with technology. My phone helps me remember things when it constantly reminds me of things that I can't remember off the top of my head, and in a way, it makes people rely on their phones or any technology too much. I think that it is a useful tool to remember things, but do you really need a calendar or technology to remember things?" said Hanna Crouse ('24).
Most people save friends' and family members' phone numbers to their contacts and never think twice. Speed dial allows people to contact others in an instant. But if you ask your parents, they will most likely say that they had memorized numbers when they were young. In a survey of 3,000 Americans, over half of men could not remember their parents' phone numbers without using their phone. The most likely age group to know their partner's number was people aged 35 to 44. In an emergency, 82% of parents would not recall their child's phone number. For safety, people should know their parents' information and at least one other emergency contact.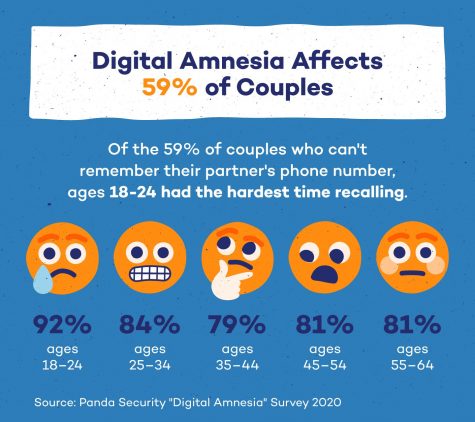 "I have my mom's phone number memorized because she's the one I keep in contact with the most," said Kathryn McDowell ('22).
Another thing that many people struggle to recall is their license plate number. You need to know this number if your car is stolen and when you check into hotels. Other significant dates such as birthdays, anniversaries, and appointments are also stored in phones. 
"I do think people rely on their phone too much, but it also comes with benefits because everything is much easier to access with the touch of a button, so it is more reliable and convenient to access important information," said Qemamu Reddick ('21).
In pre-kindergarten, I was taught to memorize my address, phone number, and zip code. However, when I started using technology regularly, I began to rely on technology rather than memory for information. Combatting digital amnesia is difficult because society is comfortable with the convenience that technology provides when faced with enormous amounts of data. Nonetheless, constant repetition is the key to memorization. 
Here are some ways to memorize important numbers:
Set reminders to look over the numbers

Write the numbers down multiple times (be sure to get rid of the paper)

Group the numbers in chunks of three or four

Correspond each chunk with a color

Sing the numbers to a melody

Loading ...