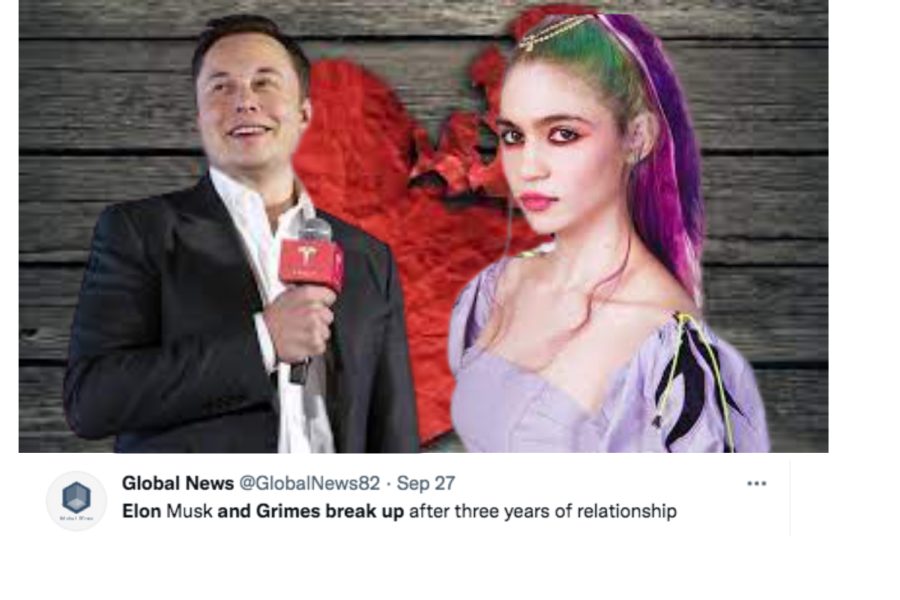 Abby Neal/ Achona Online/ Picsart
Grimes and Elon Musk breakup: what does this mean for Grimes?
October 5, 2021
Electronic musician Grimes and CEO of SpaceX and Tesla Elon Musk have broken up in the past week. Prior to their relationship, Grimes preached communism, anti-imperialism and far leftism which is the opposite of Elon's values. Their contrast is what had the public baffled about them being together in the first place, and now people are left with the question: what will happen to Grimes now? 
Prior to Grimes and Elon getting together in 2018, Grimes lived a bizarre life of poverty in a trap house even though she had been making money off her music career. She openly supported communism and locked herself in dark rooms with no food for weeks on end to get her creative juices flowing. However this did not stop her from bonding with Musk over the internet.  Grimes quickly went from quoting Joseph Stalin in her high school yearbook to dating one of the most successful entrepreneurs (and capitalists) in the world. 
Grimes and Elon's relationship lasted from 2018 to 2021 and was one of the most unusual pairings the public has ever seen. Allegedly they met through Twitter DMs over a joke that Grimes had made about artificial intelligence. This led to them getting to know each other better and them eventually making their public debut at the Met Gala in 2018. Their relationship was rather turbulent along the way as the public scrutinized Grimes for ditching her previous values simply because of her boyfriend; however this did not cause the relationship to fail. 
Embed from Getty Images
Just as the public was discontent with Grimes' betrayal of her original values, some Academy students are as well. 
Senior Sophia Garcia says, "I did not like how Grimes completely went against what she believed in for her boyfriend. I was still a fan of her music during the time that she was dating Elon, but I wish she would have stayed true to herself." 
Elon Musk's Partner Grimes Publicly Scolds Him After He Tweets 'Pronouns Suck' https://t.co/9O6HTl8gmI pic.twitter.com/2qP4X2rTs7

— The Daily Wire (@realDailyWire) July 25, 2020
In early 2020, Grimes came forward announcing that she was pregnant with Musk's child. She birthed their child, X Æ A-12, in May 2021. The couple raised their newborn while continuously arguing and having conflicted viewpoints over political and social issues. In addition, they live on opposite sides of the country and Elon was continually traveling for work. This prompted the relationship to end in 2021 even though they claim they "still love each other."  
After the relationship, Grimes made jokes about her original values saying that she will make a "lesbian space commune." In all realness, however, she and Musk have announced they will continue to co-parent their child and remain on good terms. Although Grimes had previously mentioned that she wanted to help Musk colonize Mars, since they are no longer together she will have to stick with her successful music career. Although she says she will continue to make music and co-parent her baby, it is never really known what Grimes will do next. 
Academy students have made guesses about what they think Grimes' next moves in life will be. 
Kira Cardillo ('22) says, "I hope that Grimes keeps making music because her music is great, but you never really know what she will do. She really just does what she wants."