The state of abortion: From the past, to the present, and the unknowns of the future
February 9, 2022
On January 22, 1973, the Supreme Court issued its ruling in the case of Roe v. Wade, protecting a woman's right to have an abortion. Now, as Roe celebrates its 49th anniversary, it is apparent to abortion providers and anti-abortion activists alike that this may be its last. Breaking down a timeline of the past year allows one to understand what has led to this point.
View this post on Instagram
In May 2021, Texas passed a ban on abortions after six weeks of pregnancy a time that is too early to detect pregnancy in some women — a law that defies the rulings Roe and Planned Parenthood v. Casey. Abortion providers filed an emergency appeal to the Supreme Court, but the Court waited to take the case then stated it would wait until a case that more specifically said who is to be sued came before it ruled on the issue.
Sara O'Connor ('23) said, "I think that the Supreme Court will overturn Roe v. Wade since there is a Republican majority and it is one of their main stances."
The Supreme Court is expected to rule on Dobbs v. Jackson Women's Health Organization, in which the clinic is challenging a Mississippi ban on abortions before 15 weeks — before a fetus is viable, in June 2022. If the Court upholds the law, it would reverse its Roe ruling and allow other states to enact similar laws. Because of the partisanism in the Court, and its treatment of the Texas law, it is very likely that this law will be upheld. 
Should Roe be overturned, abortion policies would be decided on a state-by-state basis. There are six states are likely to ban abortion — 21 states have laws banning six- to eight- week abortions that would be put in effect and five more that would ban abortion. A person in need of an abortion in a state that has ban them would have to travel out-of-state to receive one, making it harder for people who live in states where abortion is legal to receieve one. This is because the states would then have to accommodate the out-of-state travelers in addition to current — the present reality for people in Texas and the surrounding states.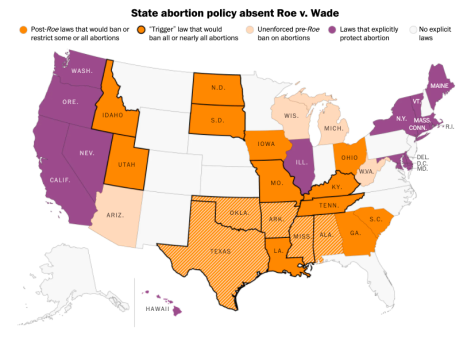 The apparent fragility of Roe causes lawmakers and activists to question the security granted by other landmark cases — namely Obergefell v. Hodges which legalized same-sex marriage across the nation. While many states legalized same-sex marriage prior to Obergefell, if the case was overturned, LQBTQ+ rights would likely be ban in the states that it was not legal. The only way to guarantee same-sex marriage and other vulnerable rights is if states work to institutionalize them before the Court has the opportunity to overturn them.
An issue that many abortion rights activists have with these laws is the lack of consideration of the different scenarios that lead someone to having an abortion. The most common reasons why people get abortions are out of fear that having a baby will interfere with their economic success, being unable to support a child, and and lacking in parenting abilities. These laws also do not exclude victims of sexual abuse. Oftentimes, people were forced through traumatizing experiences and then want to get an abortion — but these potential bans make it harder for them. These factors embody the importance of access to abortion that many advocates cite as the reasons behind their movement.
"The importance of Roe v. Wade is that it essentially ensures access to abortion services, thereby protecting women's right to choose. Personally, as someone with a pro-choice perspective, I (respectfully) believe that the continued national upholding of Roe v. Wade is imperative, as pregnant people should be able to decide what to do with their own bodies, especially in life-threatening cases," said Aspen Hunter ('23).