Ugh, Florida Traffic
November 28, 2022
After a long day, you are set off to head home. As soon as you pull out of your parking lot intersecting a side street, you notice it: Traffic.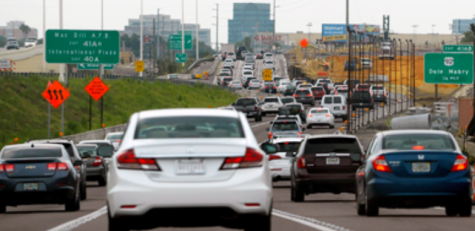 AHN parents like Terika Allen say, "Oh, I hate Florida's traffic. It seems to get busier every day, and more people are on the road no matter the time. I believe it is because of the daily accidents and new drivers on the road. Everyone also seems to be getting off work and school around the same time." 
From the student perspective on traffic: "It is very bad. A lot of people are moving to Florida because it is a warmer state and we don't have a state income tax," comments Nyonyose Varmah (12).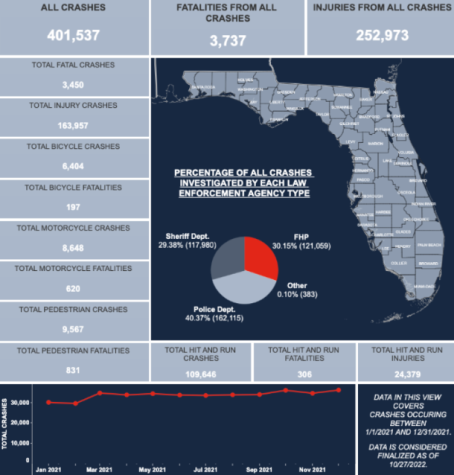 No matter if you're coming home from work, school, or a short trip to the store, the traffic factor will still apply. Research finds multiple reasons why your normal route of 30 minutes could take up to two hours here in Florida. Some of these reasons include road work, car accidents, new drivers, new Floridians not knowing the driving customs/more drivers on the road, rush hours, and distractions while driving.
Current solutions such as Florida's new traffic laws (like 2013's restrictions on driving while on your phone) are trying to minimize these factors to traffic issues, but blockages such as accidents seem impossible to avoid.
Florida Highway Safety and Motor Vehicles (FLHSMV) states that "approximately 200,000 car crashes are recorded in Florida every year." That equals more than 500 accidents every day. Of these many accidents, some are caused by trying to save time while in traffic.
So we know the factors, but how can we solve this? As we receive current road solutions from new roads/interstates being built, we can contact state officials about the issue. In terms of personal things you can fix, the way one drives is easy.
Below are common mistakes drivers make that contribute to congestion:
1. Eyes on the road: focus on your driving to keep a steady flow of traffic.
2. Allow space between the car in front of you so that you can have the ability to safely brake.
3. Stick to a route and stay in your lane. By planning how you will get to your destination and knowing any traffic details, it can be personally helpful.
4. Don't fall victim to distractions. Items in your car such as your phone, food/drinks, phone calls/music, and passengers should not keep you from being able to focus on the road.
5. Maintain a working vehicle. By maintaining a car you can lower the chances of any car failure accidents. Following up on this it is best to know the appropriate reactions if your car is to fail on you.
6. Learn to control your patience and emotions while driving. As it is encouraging to never drive when physically unfit to drive, the mentality while driving is also important.
7. It doesn't cost much to be nice: By following Florida driving rules it is also a courtesy to be patient and polite with those on the road with you. If you find yourself being provoked by another driver it is best to ignore them and if physically in danger by them, get safely away from them.
8. Know your limits, your speed limits: Make sure you are driving at the appropriate speed. Specifically, in Flordia on the interstate, it is common knowledge that the farthest left lane is the "fast lane".
Of these suggestions and solutions over time traffic can be minimized, but currently, it is best to always have a backup route and an extra ounce of patience. Traffic can also be controlled primarily by the drivers.
So, how will you help minimize traffic today?