U.S. has a higher mass shooting percentage than most industrialized countries, but why?
March 7, 2023
Throughout the past year, more than 600 mass shootings have occurred, with 2 a day on average. Many shooters in these incidents will then commit suicide after having killed or wounded several. This epidemic hasn't slowed down and keeps transforming into a greater American issue as time goes on.
With the first automatic pistol being created by Joseph Laumann in 1892, the firearm industry has developed rapidly over the years to now having a silencer, a muzzle device that is added to the gun to suppress the loud sound made when the bullet is discharged.
With the development of firearms, laws have been placed in many countries to regulate their sales and use.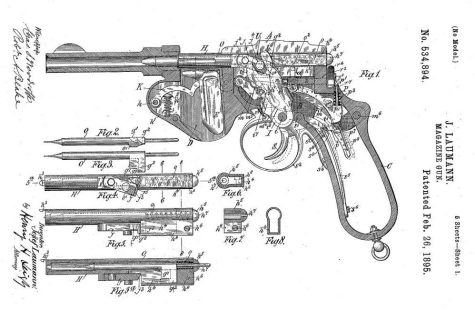 The United States has now been home to a series of gun-related attacks, with approximately 72 million handguns, 76 million rifles, and 64 million shotguns. The SAS (Software Analytics and Solutions Institute) estimated there to be around 120.5 firearms for every 100 residents in the U.S.
Surprisingly, these statistics suggest there to be more weapons than the total population in the US. The fear of being shot in the back of the head while driving, at school or even at the grocery store haunts many Americans and will only spread onto the next generation if the issue is not solved.
When will the epidemic of this gun violence end? Here's a look at the statistics on a state level: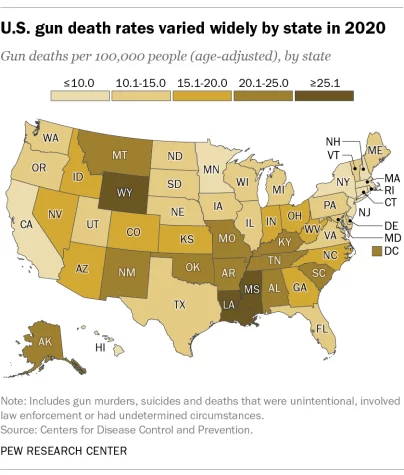 Over the years, Congress has passed several laws pertaining to gun control such as The Gun Control Act of 1968. Federal law does not mandate licensing of gun owners or purchasers, allowing for state governments to set up their own rules on whether or not licenses are required to purchase firearms. Firearm licenses help ensure that a background check has been passed. States that don't require for residents to obtain a license to carry firearms are Alabama, Alaska, Arizona, Arkansas, Idaho, Iowa, Kansas, Kentucky, Maine, Mississippi, Missouri, Montana, New Hampshire, North Dakota, Oklahoma, South Dakota, Tennessee, Texas, Utah, Vermont, West Virginia and Wyoming.
Taking a look into gun violence throughout the world, the United States and Venezuela are shown to have higher rates of gun deaths than most other countries. Many countries in Latin America have shown to have very high gun death rates due to the prevalence of violent gangs and an expansive drug trafficking industry.
"The Gun Violence Archive, which defines a mass shooting to include at least four victims not including the shooter, has already recorded more than 80 such incidents in the U.S. since the start of 2023."https://t.co/iTb4wAPEiM | @TIME

— The Gun Violence Archive (@GunDeaths) February 23, 2023
Many of the gangs present in Latin America, especially in Brazil, are closely related to the corruption in these countries' governments and their dominance over the national governments. When looking into countries such as Japan, the United Kingdom, Norway, and Australia, the presence of gangs and even gun related deaths is extremely rare. Much of the reason for this is due to laws and legislation passed which lower the amount of firearms present in these countries.
Gun violence has been circulating throughout the United States, impacting civilian lives and making headlines throughout many news agencies. The presence of lenient laws placed on firearms have a tremendous effect on the way Americans view and carry out their lives. As the years will pass, and the issue with gun violence is not solved, the problem will overtake the lives of many more civilians.