Sakana Sushi Food Review
November 16, 2018
Sakana Sushi restaurant is located on West Gandy Boulevard. The menu contains ranges of many different types of Sushi, including a salmon skin roll, cajun roll, and spicy crab roll. The restaurant also offers items such as chicken or shrimp fried rice and various types of stir fry. The restaurant has been open for a few years and is very popular among Academy students.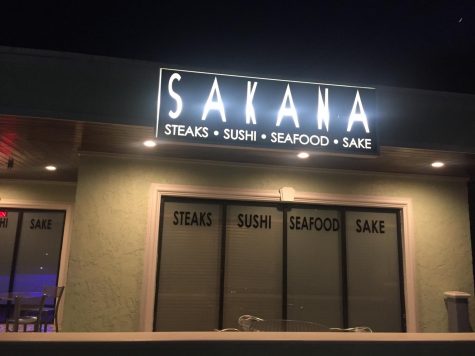 When a person first walks into the restaurant, they are greeted by a server. They can either choose to sit at the bar, where there are televisions showing sports games, or at a table in the serving portion of the restaurant.
Hannah Rodriguez ('19) says, "I went to Sakana with a group of friends. It was really good. There was not a lot of people there which was surprising because the atmosphere is so cool and relaxing."
The atmosphere is calming with traditional Japanese music playing at a low volume. The restaurant is lit darker because it is intended to be primarily a dinner place. However, meals are still available in the morning.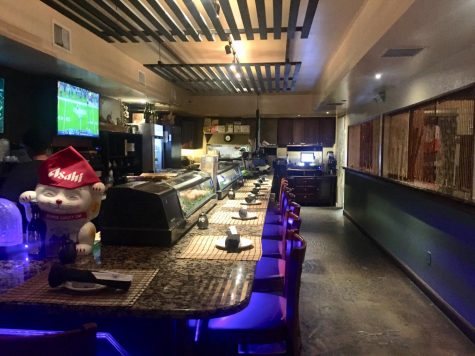 The restaurant also offers different specials every week. The specials board hangs above a single row of circular booths.
The service is excellent. The servers are attentive and no orders were switched or messed up. The food came in a timely manner.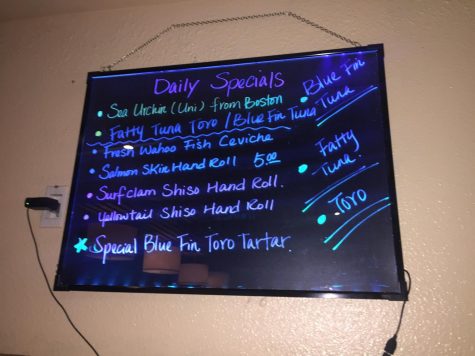 Sakana has a 4.4 rating on Google Reviews and a 4.7 rating on Facebook. Each meal comes with a choice of an appetizer, which is either a  house made salad or traditional Miso Soup.
The chicken fried rice is served on a white plate surrounded by fresh cucumbers. The chicken is mixed in with the rice and also contains scrambled eggs, onions, zucchini, and seasoning.
The Chicken Stir-Fry Udon is also very delicious. The dish comes with noodles with seasoning, broccoli, peppers, chicken, and cucumbers.
Sakana also offers "Voodoo Chips," which are 4 chips topped with a mixture of tuna, crawfish, spicy crab, avocados, and mangos.