First Watch Food Review
December 13, 2018
First Watch is a breakfast and lunch restaurant with multiple locations across the Tampa Bay area. It has increased in popularity in the past year, and a new location recently opened in Oldsmar.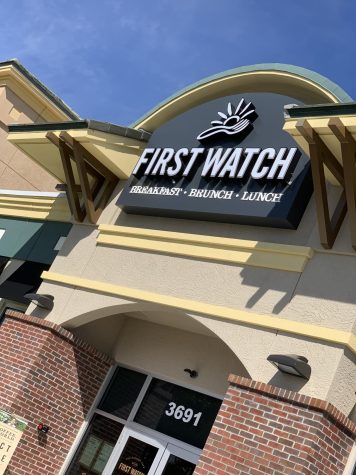 Many Academy girls enjoy the food and atmosphere that this restaurant provides.
Morgan Tata ('19) says, "I recently went to First Watch, and I loved it. The food was really good, and I loved the style of the restaurant. It was decorated well, and it had a nice atmosphere."
Upon arriving at the restaurant, a host will greet and seat you. It is recommended that you arrive at the restaurant before 10:00 a.m., as it gets very busy. There is usually a relatively long wait after this time.
The waiters and waitresses are very attentive and are easily available if something is needed. They are very knowledgeable about the menu and will answer any question that is presented to them.
The menu has a variety of options including traditional breakfasts, avocado toasts, and waffles. They also have a variety of drink options, including their specialty coffee. The iced coffee was found to have a unique flavor, but it still tasted amazing.
First Watch works with Project Sunshine to help the community. Project Sunshine is an organization that helps provide services and supplies to children with illnesses and their families.
They also partner with Huila, Colombia, a small town in the mountainous region of Colombia. First Watch works with poor towns and pays them good salaries in exchange for special coffee beans.
Sofia Tweed ('20) says, "I think it is awesome that First Watch is doing something to help better the community. It is so important that organizations and businesses do whatever they can to help the less fortunate. First Watch is definitely taking a step in the right direction."