Academy Girls React to the Presidential Debate
October 3, 2016
Monday, September 26 marked the first Presidential debate- also the first major test of the 2016 race. Overall, nobody won and nobody lost.
After watching the debate, there was a mixture of reactions from the Academy girls. Some described it as "really weird", "embarrassing", or "very uncomfortable".
Junior, Mia Lopez, simply stated, "I thought it was more of a comedy than a debate."
The first presidential debate broke multiple internet records https://t.co/cwWrR1vPjy pic.twitter.com/G85L5C1X7O

— Engadget (@engadget) September 28, 2016
The Presidential debate, which was hosted at Hofstra University in New York, was moderated by Lester Holt. Donald Trump, the GOP nominee, wore a blue tie, and Hillary Clinton, the Democratic nominee, wore a red pantsuit. Over the course of about ninety minutes, the two candidates debated about their views on the economy, trade, tax returns, racial tensions, ISIS, while also trading insults and making digs at each other.
"I thought that Trump did a pretty horrible job with composing himself and answering questions, especially toward the end. He came off really aggressive and flustered," stated senior, Lexie Diez.
Senior, Anne Marie Yatsula added, "I was really surprised that Trump interrupted Clinton so much. Technically, he's not supposed to interrupt her."
On the other hand, junior, Bella Kirkpatrick, stated, "I thought Trump did better than Clinton at the beginning, and Clinton did better than Trump in the end."
When sophomore, Lindsay Ayers, thought of the debate, the first thing that came to mind was Snapchat.
"It was on EVERYBODY's Snapchat stories, and most people put filters on Trump and Clinton's faces," explained Ayers.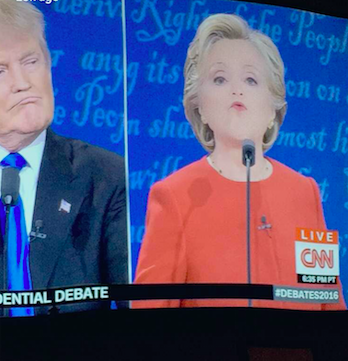 "In the next debate, I hope that Trump prepares better and learns from his mistakes. He needs to work on staying composed and answering questions more thoroughly", explained senior, Lisette Cruz.
Sophomore, Katie Taulbee admitted, "In the end, the whole thing was just really weird to watch."
This first debate was the perfect opportunity for either Trump or Clinton to turn the tide in their favor. Both nominees, however, had highs and lows, so the majority of undecided voters are still undecided. Round Two of the Presidential Debates will be next month, Sunday, October 9.