Tampa's own Jose Fernandez Dies in Boating Accident
October 1, 2016
Tampa's very own Jose Fernandez was found dead Sunday morning on September 25 at just 24 years old. It was not only a tragedy for Tampa, but also for the Miami Marlins baseball team.
Fernandez, along with two friends, was killed in a boating accident near the Miami Harbor. Analysts have concluded that the crash happened at around three in the morning.
The baseball player left behind his girlfriend Maria Arias, who is expecting a child. Fernandez's friends promised Arias that there will be a father figure in the child's life, despite the loss of the biological father. Friend Eddie Rivero got a tattoo in honor of his passing. Even those who did not know the baseball player personally have taken time to commemorate his recent death through social media, using #JoseFernandez.
Senior Alexis Miniet reflects on the feeling of being Hispanic and having family coming from Cuba, commenting, "My grandmother came from Cuba and moved to Miami and my mom was raised there. It's nice to see that he was successful coming from a rough childhood."
After settling down in Tampa, Florida, Fernandez attended Alonso High School. Fernandez led the school to multiple state championships, and made an impact on the students and staff through his charisma and dedication. Not knowing much English, he had to put in double the amount of work than the typical student did.
Math teacher David Bland, former Alonso teacher, states, "He had a love for life. He was a great kid."
At the Marlins game following his death, players honored Fernandez by wearing his jersey.  It was clear the team was not playing for a win, but for their teammate in Heaven.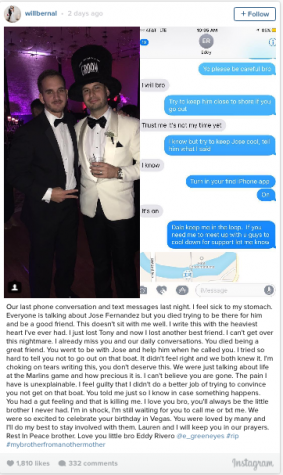 In the first game proceeding Hernandez's death against the New York Mets, leadoff hitter Dee Gordon knocked a home run. Gordon, who usually bats left handed, took a pitch right handed to honor Fernandez, a righty.
Gordon teared up on his run and, according to a CNN video, asserted  "trying to honor my friend, my teammate, my brother…. I just wanted to go out and play hard for him"
Just amazing, @FlashGJr. #JDF16 pic.twitter.com/Tgg03ZSJlt

— MLB (@MLB) September 26, 2016
Junior Alexa Traviesa shares, "My mom lived in Miami her whole childhood and for some time as an adult after immigrating from Venezuela. All my cousins, my mom's childhood friends, aunt and uncle, and my grandparents live there. They told me there are so many areas that are dedicated to Jose, with crosses and flowers around it."
The Marlins ended up winning 7-3 and each of them confess that it was all guided by Jose Fernandez's spirit. Almost a week later, people are still in shock of the 24 year old's death. Tributes continue to take place all over the Miami and Tampa area.