Trinity Gay, Daughter of American Olympic Sprinter, Killed Due to Gun Violence
October 24, 2016
USA Olympic sprinter, Tyson Gay, is currently tied with Jamaican Asafa Powell as the 2nd fastest man in the world. His daughter, Trinity Gay, 15, was an aspiring Olympic sprinter just like her father. As the fastest sprinter at Lafayette High school in Lexington, Kentucky, she was on her way to achieving her goal.
On October 18th at 4:06 am, Trinity Gay was caught in the crossfire of a shoot-out as she was leaving a restaurant. She was shot in the neck and rushed to University of Kentucky Hospital where she later passed away. The four men have been arrested for wanton endangerment, and the man who shot the bullet that stuck Trinity's neck is also being charged for murder.
The people of Lexington, Kentucky have found solace for their loss by gathering as a community.  Her teachers, friends, family, and much of the town held a vigil on October 17 in remembrance of her. They decorated the high school fences with personal notes, balloons, track cleats, and pink and purple ribbon, her favorite colors.
The Jamaican Olympic Team twitter page posted a picture of Trinity and her father expressing their condolences for the family.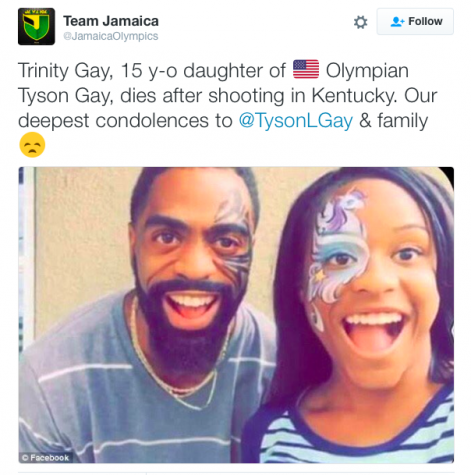 The Lafayette High School Football Team tweeted a beautiful picture of Trinity at her prom, announcing a candle lit vigil for Trinity at the end of their game to remember her.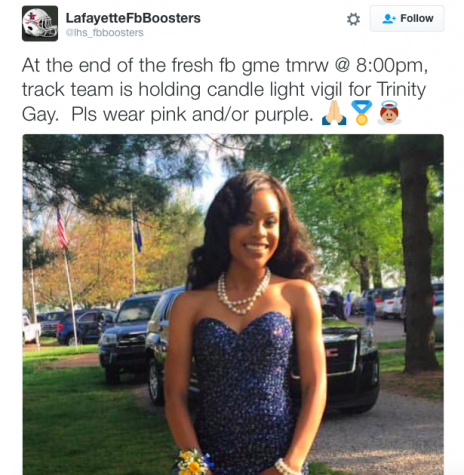 Tyson Gay, Trinity's father, posted a video on his twitter page thanking everybody for their support and love through this rough time.
In her fathers eyes, Trinity was an amazing young woman who was one her way to live a successful happy life. She will be greatly missed by her family, friends, and community.