What To Learn From Kim Kardashian's Robbery
October 18, 2016
On October 2, 2016, Kim Kardashian West was robbed at gunpoint in Paris, France. West was in Paris for the biannual fashion week and was staying at a boutique hotel when the trip took a negative turn. At 2:30 a.m. Paris time, five armed men robbed the reality star of about ten million dollars worth of jewelry while keeping her locked in the bathroom.
Although the incident left West shaken and scared, AHN students can learn many valuable lessons from this occurrence. These lessons can help to protect any person from becoming the victim of one of the two million burglaries that occur in the US every year.
The first lesson to learn is not to advertise your valuables and success on social media. West had previously shown off the 20-carat diamond engagement ring that was stolen on her Instagram account. Public relations expert, Amanda K. Ruisis, put out a statement declaring that anyone who posts photos of her expensive possessions is putting herself at high risk of being robbed.
Senior, Hannah Menendez claims,"Ever since Kim was robbed, I have realized what a bad idea it was that she had been posting photos of her engagement ring ever since Kanye proposed."
However, West is not the only celebrity to post photos displaying expensive jewelry. For example, Mariah Carey's 35-carat diamond ring, which is worth ten million dollars, is visible in many of her Instagram posts.
https://www.instagram.com/p/BIqtONHhtps/?taken-by=mariahcarey
A second thing to learn is to be careful with geotagging. Geotagging is the act of adding geographical information to a posting on a social media platform, allowing the whole world to see a person's location. Tagging your location on social media allows the criminal to know exactly where a person's valuables will be.
Like West, sophomore Maddie Urso is someone who frequently geotags the restaurants she goes to. For example, she geotagged her location on one of her posts at the Columbia Restaurant in Ybor City.
Urso explains "Geotagging my location in this picture is much safer than what Kim did because I posted the photo when I was no longer at that location. Kim should have maybe waited until after she had left Paris to geotag her location as Paris, like I usually do. "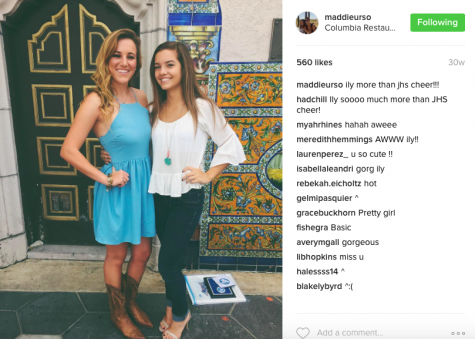 In fact, West's sister, Kourtney Kardashian, supports Urso's statement on Keeping Up with the Kardashians by claiming, "My new thing is when I'm out in public with Snapping, is turn the airplane mode on, and then post it later."
One final lesson to be learned from the robbery is not to immediately trust someone just because they are in a uniform. Paris police report that the robbers were dressed in law enforcement uniforms when they entered the building. For safety reasons, it is important to verify if the uniformed person is legit or not. This can be done by asking to see a badge, looking at what car they are in, or, if it feels very off, calling the police station to confirm that a police should be present at that time.
€4 to 5 million in jewellery taken from Kim K in gunpoint robbery, they came dressed as Police officers

— Papa du rap (@LaFrenchPlug) October 3, 2016
Freshman, Ava Accardi, states that "Just like Kim, I would let someone who said they were a cop and were in uniform into my house because they would appear trustworthy to me, but now I know to be more careful."
Although it is unfortunate that this multi-millionaire mother had to be an example to everyone, the lessons that are being taught from it are important and beneficial to all.