Donald Trump Wins 2016 Election
November 15, 2016
On November 9, Donald Trump was elected the 45th president of the United States. His win was against all predictions, and made him the first Republican president since 2004. Though Trump's strongest support came from the votes of 67% of white male voters without college degrees, he also won over electoral votes from previous Democratic states including Michigan, Ohio, North Carolina, and Florida. While Hillary won the popular vote, she lost to Trump by 62 electoral votes.
Junior, Annemarie Collins relays her confusion on Trump's win, sharing, "I was shocked that the original polling guaranteed Hillary was going to win, but then Trump did. Many millennials did not vote in the election although they stated in the original polls that they were going to vote for Hillary. If the millennials had voted would Hillary have won?"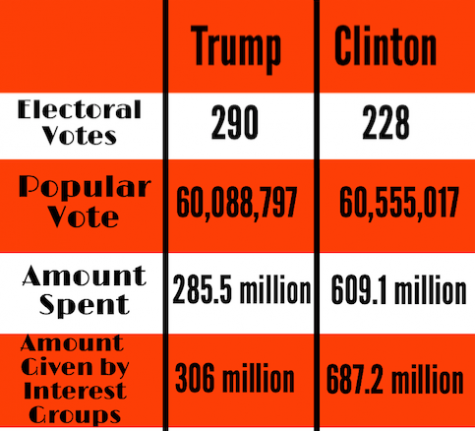 Although Trump won because of his substantial electoral votes, he tweeted about it unfavorably.
The electoral college is a disaster for a democracy.

— Donald J. Trump (@realDonaldTrump) November 7, 2012
Election teacher, Beth Chase states, "I think it was a shock, I think it was a shock even to Trump that he won. I think obviously he tapped into an area of the voting population that was dissatisfied with the direction of the economy. Hillary, against the advice of her husband, did not engage that part of the voting population costing her the election."
Hillary prompts U.S. citizens to keep an open mind about Trumps future presidency.
"Donald Trump is going to be our president. We owe him an open mind and the chance to lead." —Hillary

— Hillary Clinton (@HillaryClinton) November 9, 2016
Although Trump was not expected to win by Republicans or Democrats alike, his strategy in targeting the smaller western states by his use of strong language ignited unrest in the current economic state of the country and kindled in them hope for the future.