Violent Attack at Ohio State University Raises Questions about College Campus Safety
December 5, 2016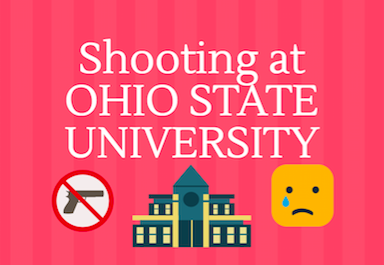 On Monday, November 28, a student attending Ohio State University, Abdul Razak Ali Artan violently smashed his vehicle into pedestrians on campus. Directly after, he slashed 11 students with a knife before being shot and killed by police. The campus immediately went into lockdown to prevent further harm.
Emma Heston '18 said, "Being a huge Ohio State fan, I'm definitely considering going to college there. The stabbing definitely made me question that though due to the fact that so many were attacked in such a short amount of time it scares me."
Buckeye Alert: Continue to shelter in place. Avoid area of College. More information to follow.

— OSU Emergency Mngmnt (@OSU_EMFP) November 28, 2016
All victims of the attack were rushed to the hospital with one currently in critical condition. The only known motives of the attack are that the Somali-born attacker committed this as an act of terrorism. Investigators are looking into all the details of the attack to try and piece together the reasons for this devastating event. Ohio State is gathering members of the community in order to support those affected by this event.
Minutes before the attack, Artan posted on Facebook a message concerning his anger at the United States and included vague points about ISIS and the Lone Wolf attacks, which both involve terrorism. This piece of information is the only evidence of a motive investigators currently have.
Samantha Miller '20 said, "I watch most the Ohio State games with my family and I was born in Ohio and lived there a while. Most of my family is there so I am considering going to college there, but the attack does not effect my decision."
To try and avoid being a victim of an attack on college campus, follow these tips to prevent harm to yourself and others. Things such as being aware of your surroundings, walking in well lit areas at night, and walking with others, are tips to consider when trying to be safe.
Attacks like these occur often in America and there seems to be no way to avoid this form of tragedy, school shootings and stabbings. Innocent bystanders are harmed for the attackers personal motives, which range from a variety of things mainly mental health issues. Ohio State is only one of many places where a catastrophe like this has occurred and it affects more than just the victims.