Girl Scout Cookie Season Takes Academy by Storm
January 25, 2017
Girl Scout Cookies are an American tradition, sold every year in January for the last 100 years to raise money for the organization. To celebrate their centennial, two new cookies of the same "s'more's" flavor have been released.
Isabel Laboy is a sophomore at Academy and is still part of a Girl Scout Troop.
Although the organization is selling two types of s'mores cookies, getting your hands on both of them isn't that easy.
Laboy shares, "The two new s'mores cookies are new additions, but not every troop sells both of them. We only sell the one that isn't dipped in chocolate but the other counties in Florida sell the other one."
Another buying option is donating them to a person of choice. Annmarie Collins is an "independent Girl Scout", which means she is not part of a troop but, she is currently working on her Gold Award, the highest Girl Scout award.
Collins shares, "There is an option when selling Girl Scout cookies that if you don't want to eat the cookies, you can donate the box to troops overseas."
A survey was conducted throughout the AHN high school to find out which Girl Scout cookie is most popular. These were the results: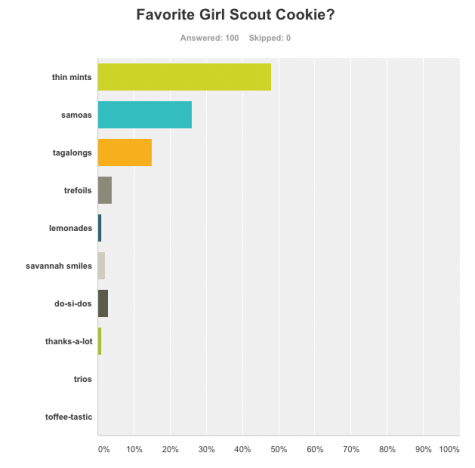 Boxes of Girl Scout Cookies currently sell for $4.00 per box of cookies.
Laboy says,"The last time cookies prices went up was last year or two years ago. It was $3.75 and now it is up $4.00. People get upset when they go up but we don't control it."
Academy girls can buy Girl Scout Cookies by contacting Isabel Laboy by January 31 at [email protected] .
https://www.instagram.com/p/BPsGWfDhL2J/?tagged=girlscoutcookies
Best time of year Girl Scout cookies… I mean Playoffs

— Bryce Petty (@b_petty14) January 22, 2017