HOA: Meredith Butler and Alumnae Attend Women's March
January 26, 2017
On Saturday, January 21, 2017, Senior Meredith Butler made her way through Washington, D.C. on the Women's March that sparked a revolution in response to the controversial "far right rhetoric" that has arisen nationally and worldwide. The march protests for valid human rights to every human and every minority.
According to the official website,"Women's March Global invites individuals and organizations committed to equality, diversity, and inclusion and those who understand women's rights as human rights to join our local coalitions of marchers in representing the rights and voices of progressive people around the world."
In an interview, Butler had many statements and advice to share…
ACHONA: Why did you decide to March on DC? What sparked this?
Meredith:"I had been planning on going to the Inauguration since this summer, regardless of the election winner since my friend who attended Academy last year, Samantha Daley now lives in DC. No matter who won it's still a historical event that I wanted to participate in. We got lucky with the March, as soon as we found out about it, we knew we had to go."
A: What other people were there? Who had the majority and what were they protesting?
M:"There were all kinds of people there: lots of transgender people, lots of openly gay/lesbian couples, really people from any walk of life. I talked to a group of women that were teachers that said they were there for all of their students. The majority were women, but there were still quite a few men. The biggest thing being protested was the way Trump had treated women, especially with his "grab her by the pu**y" comment. They were wearing pu**y hats and what not. While a lot of the signs and protesters were very pro-choice oriented there were several women I talked to that were pro-life."
A: What was the atmosphere like?
M:"The atmosphere was very loving, but also tense and tear-jerking. You had people from all of over the country chanting in unison, it was very powerful. At random points, people cheered each other on, especially the elderly that were there walking the 1.5 miles. However, everyone knew this was not for fun and games, which is what made it so tense. It felt very patriotic, everyone there was there to fight for their country to remain great and wasn't just going to accept anything less than that."
A: How did you feel leaving the march?
M:"I felt changed, I feel like my days of sitting around and just accepting the world around me is over. One of the chants was, 'What does democracy look like? This is what democracy looks like!' I feel like this is still speaking to me, I have a voice in this wonderful country and now I think I've finally realized that. Everyone says they want to make an impact, I felt like I had made my impact. I felt greater than myself, a small piece in the puzzle of all the women I marched with and everyone who came before me."
A: What advice do you give to other girls who want to stand up for what they believe?
M:"I say get out there, make your voice heard. Nothing is going to change if you just sit around and complain about it, which is what I've been doing all of my life. But also don't start fights, nothing is going to help your case by attacking someone with a different opinion than you."
Marchers included in the nation-wide effort surpassed more than one million, with "sister marches" in many other large cities such as New York, Boston, Los Angeles, and even St. Petersburg, Florida. Academy Alumnae that joined the movement include:
Caroline Yount, Academy '16: New Orleans, Louisiana
Yount who attends Tulane University says, "Being a feminist is an important part of who I am and I think it's important to support women's rights not only here, but around the globe… I want to make my voice heard."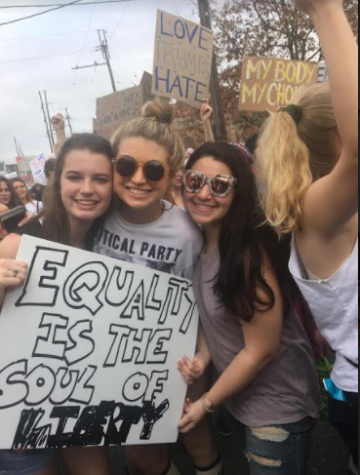 photo credit: Caroline Yount
Karlee Nipper, Academy '16: Birmingham, Alabama
Nipper drove two hours from Auburn University and marched in Birmingham, Alabama with her college friends. She says she "wanted to be a part of a statement to the new American administration that NOW is the time for female equality."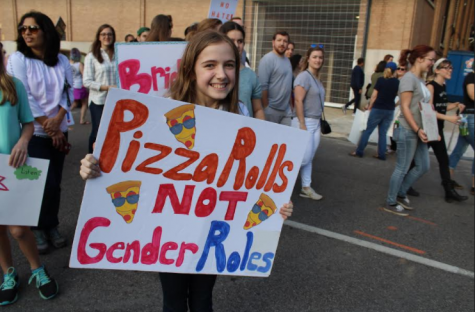 Olivia Rivas, Academy '16: Atlanta, Georgia
Rivas says, "the Women's March was probably one of the best days of my life so far at Agnes Scott. Everyone was so united and striving for the same goal and I feel so empowered and inspired to make my voice heard on issues that are near and dear to me.I wouldn't have changed a single thing."
Konner Brewer, Academy '15: San Francisco, California
Brewer who attended Stanford University says,"I marched for equality of genders, ethnicities, sexualities, faiths. I marched because I think the continued lackadaisical stance our social justice system takes on violence against women has gotten out of hand. I felt connected to this march coming from AHN where I was surrounded by a powerful group of women both in the student body and faculty."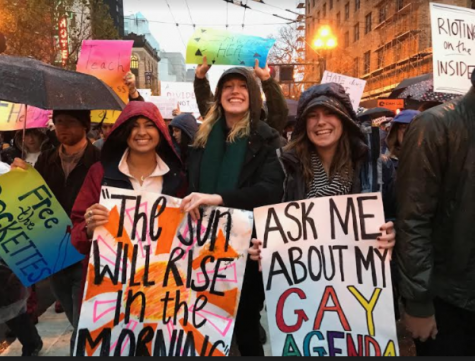 Photo credit: Konner Brewer