Women Fight for Rights in New York City
January 30, 2017
As 11 a.m. rapidly approached on Saturday, January 21, over 250,000 people filled the New York City streets to begin the 2017 Women's March. Throughout the metro stations prior to the start, men and women alike could be found piling into subways carrying anti-Trump and pro-choice signs preparing for the protest.
Similar to the other marches, men and women from all across the world gathered in New York City to fight for equal human rights for women, which is what the Sisters of the Holy Names advocate for.
The Women's March began on 47 Street and made it's way down to Fifth Avenue. Early Saturday morning, New York Police Department officer's began setting barricades along the route in order to keep the event safe and orderly.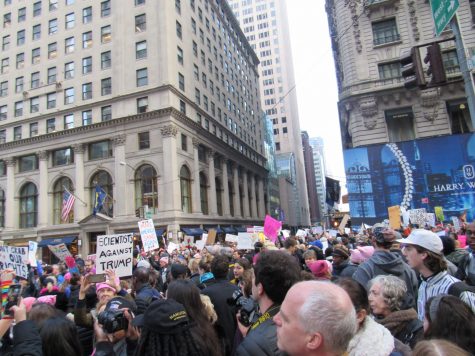 Senior Kathryn Byers, who was visiting the city at the time of the march, says, "Honestly, I would estimate that there were between 100,000 and 500,000 people. The police had to barricade so many streets for them to walk. We took a cab on streets that run parallel, and every intersection we passed had an ocean of people standing with their signs in the cold."
It took participants roughly three hours to make it to the front of Trump Tower, which is normally a 30 minute walk. Once they reached the final destination, participants took to a halt and began chanting sayings including "Country divided, we'll always be united." Signs that "Girls just want to have FUNdamental rights" and pink beanies crowded the skies of New York City.
Those who were visiting, such as myself and Byers, could barely get around Manhattan. Although the main protest was kept within barrier lines, many took to side streets screaming and holding up signs. Visitors also filled the sidewalks taking photos and videos of protesters, making it nearly impossible to walk around. As I walked by the Rockefeller Center ice skating rink, two women hung a banner supporting women's rights over the ledge, resulting in an overwhelmingly positive response from those in the rink.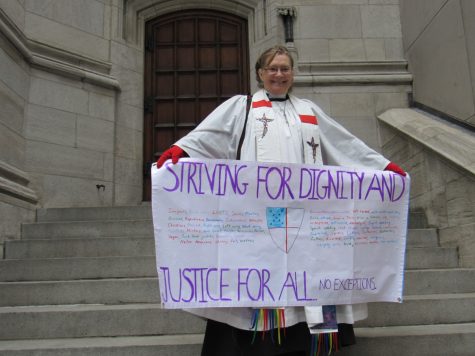 Business owners on Fifth Avenue unfortunately suffered the day of the March. One employee at Banana Republic expressed her discontent at the loss of business due to the extended run time of the march, which was about eight hours.
The protest in New York was extremely peaceful and participants appeared to be enjoying themselves as they sang songs including Ariana Grande's "Dangerous Woman."
Byers says, "I thought the march was pretty inspiring. Even if you don't support what they are fight for, the dedication of these women who came from all over to support other women is really cool. Some marchers were staying at my hotel and they were all so enthusiastic and empowered. It was really neat talking to them."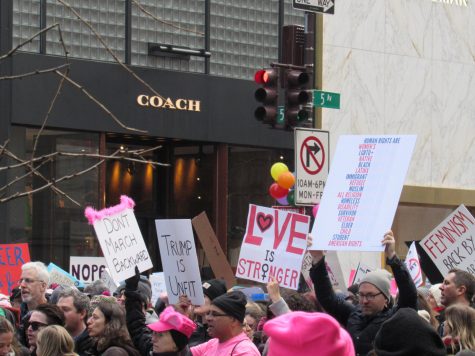 During a time of much diversity and controversy, many can agree this march was a wonderful form of unity, whether or not one shares their beliefs. Although many are hoping for a second march, it is unclear whether or not one will be taking place in 2018.