Photo Credit: Domenica Howard (used with permisison)
Florida Manatee Population Recovers After Being Endangered For 44 Years
April 3, 2017
On March 30, the Florida (West Indian) Manatee was officially taken off the endangered species list by the federal government. The species is now to be considered "threatened". This new classification signals the aquatic mammals' recent recovery, which is largely in response to protective laws designed for the wellbeing of the animals.
The Manatee was put on the endangered species list in 1967. There are three main causes for their endangerment.
Historically, manatees have been hunted for food. This practice still continues today in some parts of the Caribbean.
 Because manatees are known to swim close to the surface of the water, they often are hit by the propellers of speed boats. This can either injure or kill a manatee.
Chemical pollution in manatee-dwelling waters has weakened the immune systems of the mammals and made them prone to infection and disease.
In 2011, Florida began enforcing a statute specifically designed to protect the manatees. With nearly 7,000 manatees off the coast of Florida, these laws have made a significant impact in reversing the decline of the manatee population.
In Statute 379.2431 Part 2 Section g, it says, "In order to protect manatees or sea cows from harmful collisions with motorboats or from harassment…commission shall adopt rules under chapter 120 regulating the operation and speed of motorboat traffic only where manatee sightings are frequent."
Essentially, laws such as this one have set up areas in which boats are required to go under a certain speed. This will both make it easier for manatees to swim away from the oncoming danger of speed boats (they will have more time), and lessen the damage done to the creature if a collision between animal and boat does occur.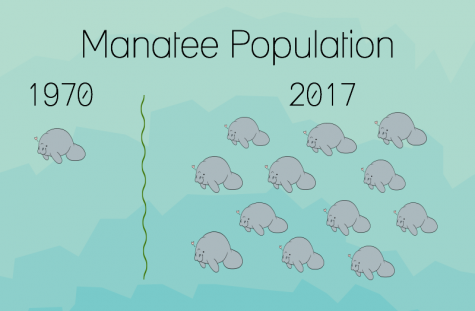 In addition to the protected areas set up by the state governments, tourism has provided another incentive for citizens to save the manatees. Many people enjoy both swimming in manatee waters or just watching them eat and swim around from a distance.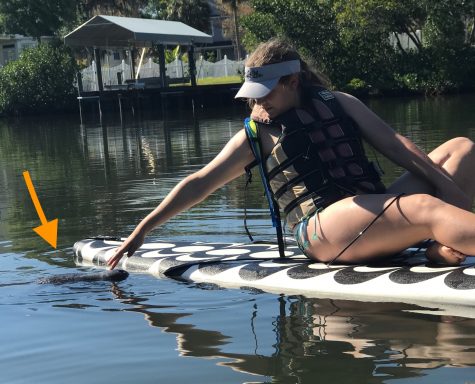 Junior Caitlin Weaver says, "I'm excited that manatees are off the endangered list because they are such peaceful and docile creatures who can be saved by simply paying attention and being more careful in the water."