Hurricane Irma Hits Florida
September 22, 2017
Hurricane Irma began as a low-pressure system in the Atlantic on Aug. 30. Within six days, it had become a Category 5 hurricane that threatened 175 mph winds and possible devastation in the Caribbean islands.
On Sept. 4, Governor Rick Scott declared a state of emergency in Florida as residents of the Keys and Miami prepared for the worst. Weather reports predicted the storm would go east, reassuring nervous citizens in Tampa.
Christina Alarcon ('18), said, "I knew that wherever it went, I would get a lot of rain and wind. It didn't really matter to me if it went east or west – I live in Valrico, so I knew we'd have rain."
By Sept. 6, the weather reports had drastically changed. Hurricane Irma had shifted west, and residents of Tampa began to fear a direct hit from a category 4 or 5 storm.
#Irma's track has shifted west, placing a possible worst-case scenario on the table for Florida this weekend: https://t.co/5sSnRYmyil pic.twitter.com/vFHJD938FF

— The Weather Channel (@weatherchannel) September 7, 2017
Allie Golson ('19), said, "On Wednesday, when Academy announced they were canceling school, I went to Publix and there was no water and almost all of the dry foods were gone."
Academy canceled school on Sept. 7 and 8 to allow families time to prepare for the storm and possibly evacuate. Students were told that, in the worst case scenario of building damage, classes would continue online.
Floridians watched anxiously as Irma blew through the Caribbean and Cuba, leaving a path of destruction in its wake. On Sept. 9, Tampa declared a state of emergency and issued a mandatory evacuation for Zone A, the area surrounding AHN.
A state of emergency has been declared by the mayor of #Tampa. @TWCChrisBruin has a look at how the city is preparing for #Irma. #FLwx pic.twitter.com/A7DjCy3h09

— AMHQ (@AMHQ) September 9, 2017
On Sept. 10, Hurricane Irma made landfall in the Florida Keys and began impacting Miami and southwest Florida.
High Rise Construction Crane Collapses on Building in Downtown Miami Due to Hurricane Irma | NBC 6 South Florida https://t.co/E2Ln3BieqC

— Jim Cantore (@JimCantore) September 10, 2017
Irma hit Tampa on Sept. 10 and 11 as a category one storm and did not cause as much devastation as many people predicted. Even still, there was flooding and fallen trees. Thousands of people were left without power.
Greta Dieck ('19), said, "There was a 50 foot tree that fell down in my yard. It had been there since we moved in, so at least nine years."
Hillsborough County continued to extend mandatory school closures, so Academy students found many ways to keep busy until class began again on Sept. 14.
Katherine Nitchals ('18), said, "My family went to Nashville during the storm. I hiked on the Old Stone Fort trail and saw a waterfall."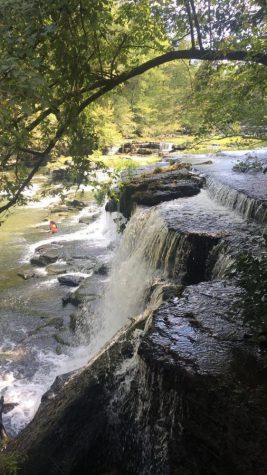 Emma Zazzero ('18), said, "I drove to Virginia with my mom's four cats and they freaked out a little bit on the long drive."
The Academy decided to open its doors again on Sept. 14, two school days earlier than Hillsborough County's Sept. 18 re-openining date.
At Academy's Thanksgiving Mass on Friday, Sept. 15, President Art Raimo reflected on how the Academy community felt blessed to be spared from Hurricane Irma's severity when so many in the Keys and the Caribbean were not. In the event of another storm, Tampa may not be so lucky. Remember: to prepare for a hurricane, stock up on non-perishable food, water, gas, and plywood to protect your home's windows.