New Middle School Opens
September 3, 2017
After a long summer of construction, the highly anticipated new middle school opened its doors on Aug. 23. Located in the building across from the Brady Center, which once housed art classrooms on the first floor and a media center on the second floor, students can now see the real space and compare it to the digitally-rendered preview or take the virtual tour.
Quite a bit changed in the span of a short few months. The library collection, which used to be available for K-12 in one central location, is now split between the new middle school and a room on the second floor of the main building.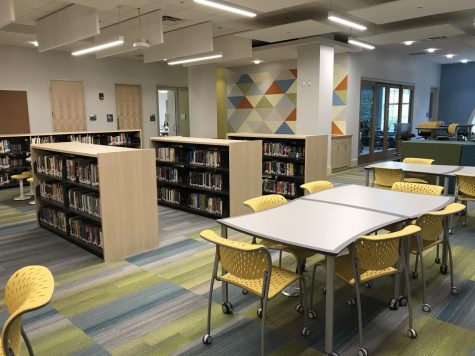 The new middle school is designed with collaboration in mind; classrooms flank spacious commons and teachers share office space. Even with the less-rigid design, there is a system to make sure students know where to go.
Library Supervisor, Emily Swiger said, "The classes have their normal everyday rooms, and teachers have the ability to schedule a specific room or commons if they want to move around."
Middle schoolers are not only adapting to the new space, but a new way to carry their books.
Swiger said, "Every morning, the students empty their backpacks and leave them in their homerooms. They put their books for the day into their cubbies and only carry the books they need for a particular class at one time."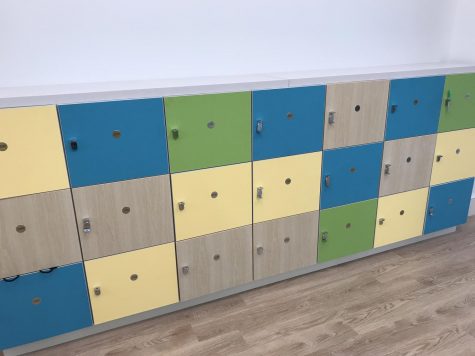 Without backpacks, classrooms stay free of clutter and collaboration is easier at the shared tables and desks.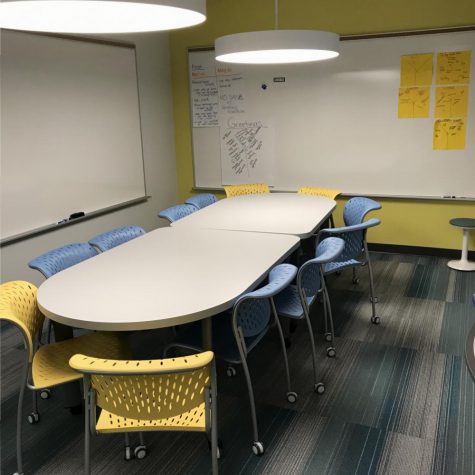 On days when tests are administered, classrooms can be closed to reduce noise and students are separated.
Teachers and librarians alike are excited for the new space's potential, such as science teacher Erin Lee, who said, "I like it because the kids feel excited about being in there. Also, it's so different when you give kids freedom and they do well with it. It invites having some self control."
"I'm able to focus on grades 5-8 and work with their specific curricula; I'm still the library supervisor, so I work with K-12, but I can really find out what the middle school needs by working in this space," Swiger said.
Back in the main Bayshore building, high school students are getting used to having class in the old middle school wing, especially those who attended AHN in middle school.
Olivia Traud ('18), said, "It's weird being back in my old classrooms, but I like how most of my classes are on the same floor now."
Jaed Seymour ('18), said, "Smells like straight crayola crayons, but I like the new feel to them!"
The new middle school is part of the "Academy Ascending" campaign, a plan to revolutionize the school and how students approach classroom learning. Anyone who would like to visit the new middle school and see the modernized space is encouraged to do so after school to prevent interrupting classes.
"The new middle school is a lot different than the old building, so it's cool to be in a new place," eighth grader, Abby Neal, said.