America's Plans for Space Race
November 9, 2017
The Trump Administration's National Space Council met on Oct. 5, 2017 for the first time since 1993, where Vice President Mike Pence discussed the possibility that the United States would not only continue working alongside billion dollar space companies such as SpaceX, but begin to join the competition against other countries in the exploration of space.
If handled properly, the National Space Council may bolster growth of the American entrepreneurial space industry – https://t.co/sCKe5ri11U pic.twitter.com/TQq9U38ycS

— Space Angels (@SpaceAngels) October 20, 2017
Pence hosted the National Space Council meeting at The Steven F. Udvar-Hazy Center located within the Smithsonian National Air and Space Museum in Chantilly, Virginia. Donald Trump's administration cabinet members, senior officials, NASA Administrator, Robert Lightfoot, and aerospace industry leaders were all present at the conference.
Gillian Garcia said, "This is the one time I will agree with Mike Pence, I love NASA. I follow everything NASA and I think the council's goals will promote exploration and innovation."
The panel at the National Space Council meeting discussed the importance of ensuring national security with military operations on land, sea, and air through space technology and communications. With no coherent policy throughout the last decade, the government plans to revive the space program and "never let America Fall behind in the race for Space."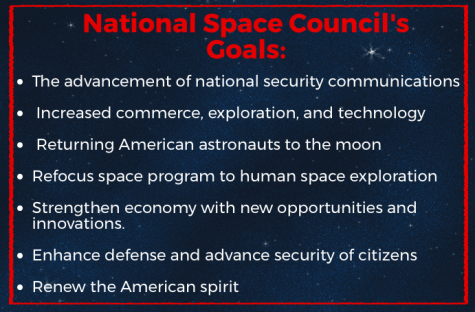 Starting the conference off with a brief history of the United States' space exploration, Pence discussed the "triumph" of sending Americans to the moon for the first time as a stepping stone to strengthen partnerships; however, he recognizes the advancement as something that was merely "remembered but not repeated." Pence stated that the U.S. Government no longer wants to rely on Russian innovations but will "tap into the bottomless well of American innovation" once again.
Pence is representing the Trump administration's decision restore the proud legacy of leadership. The National Space Council's first conference has already assured taking action towards the national interest while American leadership in space occurs.
Pence said, "President Trump recognizes we must look beyond the halls of government for input and guidance."
We'll return astronauts to the moon to build the foundation we need to send Americans to Mars & beyond #NextFrontier https://t.co/S5gNDUVyCr

— Vice President Mike Pence (@VP) October 5, 2017