Colts Linebacker Killed in Drunk Driving Accident
February 9, 2018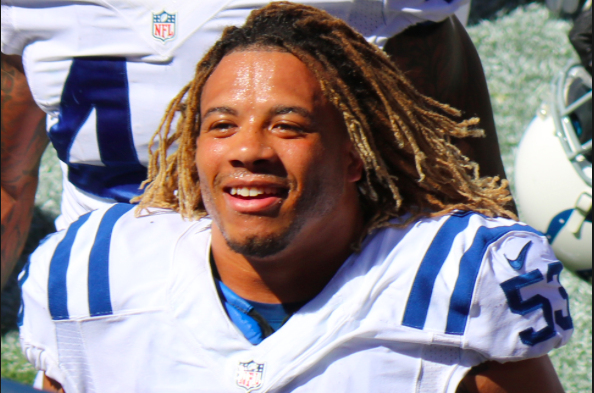 Sunday Feb. 4, 2018 Colts linebacker Edwin Jackson and his driver, Jeffrey Monroe, were killed in a drunk driving accident at 4 a.m. Jackson was riding in the passenger seat of the car. The perpetrator of the accident is suspected to be an Manual Orrego-Salava, an undocumented immigrant who has previously been deported twice.
Colts linebacker Edwin Jackson and another man were struck and killed in a suspected drunken driving accident. The man believed to have hit them is an undocumented immigrant who has been deported twice, police say. https://t.co/fUINlYTcxS pic.twitter.com/6s3FeXHHXh

— CNN (@CNN) February 6, 2018
It is reported that Monroe pulled his 2018 Lincoln to the side of Interstate 70 in Indianapolis because Jackson said he was feeling unwell. Both men were standing outside of the car when they were struck by a Ford F-150 driven by a drunk Orrego-Savala.
At the scene of the accident, Orrego-Savala gave the police the fake name "Cabrera Gonsales" and then proceeded to attempted to flee on foot. Once caught, he was transferred to Marion County Jail and was accused of driving without a license and on suspicion of intoxicated driving. Orrego has been previously convicted of driving under the influence in 2005 and was also deported from the United States in 2007 and again in 2009. He also has a record of misdemeanor criminal arrests and convictions in the states California and Indiana.
Jackson was originally from Atlanta, but found a new living playing for the Indianapolis Colts. Jackson was admired by all of the team and also by the members of the Colts organization.
It is with a heavy heart that we share the loss of one of our own.

Edwin Jackson always brought a smile to our locker room and the community. Our thoughts are with his family and friends during this difficult time.

We will miss him greatly: https://t.co/Vuql2FD59R pic.twitter.com/7gVR9PvmuA

— Indianapolis Colts (@Colts) February 4, 2018
Alyssa LoSauro ('18) said, "It is unfortunate how some people still think that it is ok to drink and drive. Since someone so famous and respected was killed by it I hope that it helps to spread awareness. Everyday people are often killed by incidents like this, so maybe now it will draw more attention to the matter."