AHN Students Plan to Attend March for Our Lives
March 20, 2018
On Saturday, March 24, 2018, March for Our Lives will be held in Washington D.C. There will be over 800 sister marches across the world in conjugation to main demonstration taking place in Washington D.C.
After the school shooting at Marjory Stoneman Douglas High School in Parkland, Florida, the students of the high school decided to take action in order to demand that the government pass gun control legislation. The march is being planned in collaboration with the nonprofit organization Everytown for Gun Safety.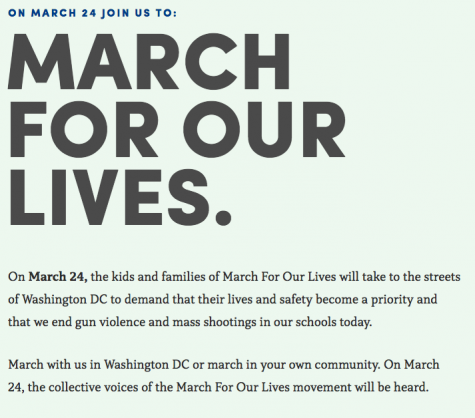 The March for Our Lives mission statement says, "School safety is not a political issue. There cannot be two sides to doing everything in our power to ensure the lives and futures of children who are at risk of dying when they should be learning, playing, and growing.  The mission and focus of March For Our Lives is to demand that a comprehensive and effective bill be immediately brought before Congress to address these gun issues.  No special interest group, no political agenda is more critical than timely passage of legislation to effectively address the gun violence issues that are rampant in our country."
A group from the Academy will be attending one of the sister marches that will take place in Kiley Gardens next to Curtis Hixon Park on March 24 from 10 a.m. to 12 p.m. Students from Pasco, Pinellas, and Hillsborough county schools and universities will be marching. It is a student-led demonstration, however, teachers and adults are highly encouraged to participate as well. The Tampa Police Department will be there to ensure the safety of those marching.
On Tuesday, March 20, an informational meeting will be held in iLab on the second floor from 2:50 p.m. to 3:30 p.m. for all who are interested and students will be making posters on Wednesday, Thursday, and Friday in the second floor lobby. Parents and adults who are interested in chaperoning the event should contact Hira Khan at [email protected]
"It is important to remember that this demonstration is not political. Rather, it is to honor the victims while simultaneously advocating that these tragedies never occur again. As youth, we have proven that we are not only responsible for the success of tomorrow, but we can also actively work towards progress today. Our school has done a wonderful job preparing us to be strong, independent young women with fortitude in our beliefs, faith in what is good, and hope for our future- now, more than ever, is the time to utilize these tools to promote positive change for our communities," says Hira Khan ('19).
PLEASE RETWEET & INVITE YOUR FRIENDS, FAMILY, ETC.
MARCH 24TH IS THE DAY WE WILL WRITE HISTORY.
COME MARCH WITH US TO SHOW SOLIDARITY FOR THOSE AFFECTED BY GUN VIOLENCE & DEMAND VISIBLE LEGISLATIVE ACTION.
THE TIME FOR CHANGE IS NOW. #MarchForOurLives #marchforourlivestampa pic.twitter.com/jpjnAadIpt

— March for Our Lives Tampa Bay (@marchtampa) March 17, 2018