How Hurricane Michael Took a Toll on Florida's Panhandle
October 16, 2018
 Hurricane Michael came as a surprise to most people because the storm moved quickly. The storm was mostly centered around Florida's panhandle, which consists of Panama City, Tallahassee, and Pensacola.
Hurricane Michael took a big toll on Florida's panhandle. There has been three deaths so far due to the hurricane. It is said that this is the biggest storm to hit the United States in 50 years. On Wednesday, Oct. 10, 2018,it made landfall in Florida's panhandle. The winds on that night were 155 miles per hour. It was a category four hurricane. The destruction to the panhandle resulted in billions of dollars in damage.
On Friday, Oct. 12, 2018, Michael became a tropical storm and traveled to the Southeast. It brought flooding to as far as Virginia and North Carolina. Almost one million homes and businesses in Florida, Georgia, Alabama, and the Carolinas lost power.
Florida's panhandle includes Tallahassee, where many Academy alumni go to school. Florida State University cancelled classes on Monday and wanted everyone to evacuate as soon as possible due to the storm.
"On Monday, President Thrasher cancelled classes from Tuesday through Friday because of Hurricane Michael. Once everyone got the alert, people started making plans to evacuate that day. It was out of control. Gas stations were running out of gas, and the grocery stores were already running out of bottled water. I'm really scared to see what kinds of damage the hurricane will do to Tallahassee. The news keeps saying that this is the strongest hurricane to hit the panhandle," says Anna Padron ('17).
Although Gainesville is not a part of the panhandle, many students from University of Florida, including Academy's alumni Sophia Bahr ('17), wished that they also had class cancelled since the weather has been bad there due to the storm.
Bahr said, "It has been really gloomy here since Tuesday. On Wednesday, we got some rain, but nothing has been too bad. Some assignments have been pushed back, but it would have been nice to have a day off," says Bahr ('17).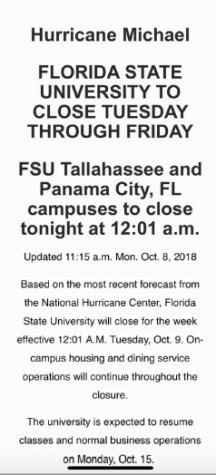 Elle Lehman ('18) also attends Florida State as a freshman.
"Basically after my first class on Monday morning, [the school] sent out this message to everyone," says Lehman ('18).
Lehman, Padron, and the rest of the students at Florida State University were able to evacuate and make it home safely before the storm hit.