Destruction Caused by the California Wildfires
November 16, 2018
Starting on Thursday, November 8th, and continuing onto this week, has been the long-going and massive wildfires that have hit near the shoreline of Los Angeles, and the foothills of Sierra Nevada. It has wiped out the town of Paradise completely. It is most likely to do with the combination of the dry lands in California and the Santa Ana winds. 50 people have been killed, along with the destruction of 200,000 acres of land. Many people have lost their homes, including those of many celebrities. Firefighters have been able to contain 35 percent of the fire so far. The Camp Fire is one of the largest of the wildfires, and is the most destructive wildfire to ever hit California.
Many celebrities have lost homes in the fire. It is from the Wolsey Fire occurring in southern California. After residents evacuated their homes, many came back to their homes with nothing left. Many celebrities live in the affected areas, so they were able to shed light on how terrible the situation is. Robin Thicke, Miley Cyrus, Gerard Butler, and Neil Young are some of the celebrities whose homes completely burned down.
Joely Barkett ('20) is currently in Los Angeles for the end of the drag racing season, for her dad's work. She is safe and did not have to evacuate.
"It's really scary to see how the wildfires are affecting the environment here. When you walk outside, it's really smokey and ash falls from the sky. It's sad to see all the homes that are burnt down and all of the people that had to evacuate from their homes in fear of the fires. Also, I was in Pomona, which is near Los Angeles, and on the race track, there was no service, because the fire burned down the fibers that carried the wifi," says Barkett ('20).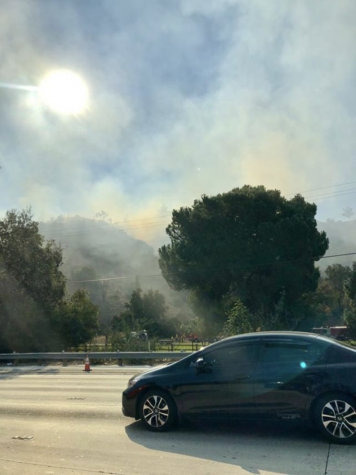 A friend who went to high school with Stephanie Zummo, lives in southern California, and is trying to get her Facebook friends to help her raise money for her friend's homes that were affected by the fire.
"A former classmate of mine, Ashley Kinstle, currently resides in Chico, California where the community is experiencing first hand effects of the fires. Thankfully, their home is remaining untouched, but they have friends who have lost everything. She made a GoFundMe to help. Ashley is continuing to give assistance where she can, and has begun to collect child items for neighboring families whom she knows have lost their homes. This is certainly a frightful and devastating time for the affected communities. We pray that they find support, peace, the assistance that they need, and that the people and any wildlife in the path of these flames may find their way to safety," says Stephanie Zummo.
Many Academy students are becoming aware of what is happening in California.
"I think it's a horrible thing. I wish this would stop, because these fires are destroying people's homes," says Lauren Harris ('19).
Here are some organizations that you can donate to help with the wildfire relief effort in the California communities:
https://malibufoundation.gvng.org
https://www.calfund.org/wildfire-relief-fund/
http://www.cafirefoundation.org