Has Forever 21 fallen victim to the retail apocalypse?
September 19, 2019
On Sept. 11, news broke that Forever 21 would be filing for bankruptcy and closing thousands of stores in the United States and internationally. Forever 21 is known for their trendy clothes at cheap prices, but as of recently, more and more people have stopped shopping at the retail giant. 
Business Insider's Kaitlyn Wang and Irene Kim said, "The company overall is now in 500 million in debt and considering filing for bankruptcy." 
What drew people to Forever 21 was their ability to design and approve hundreds of new trends in a day and get them in stores in a matter of weeks. However, Forever 21's "fast fashion" ways have not been fast enough. Brands like Fashion Nova, H&M and even Amazon have been able to design, approve, and make clothes available to the public instantly. 
According to Business Insider, "Internet brands like Fashion Nova churn out celebrity- and influencer-inspired styles at a rapid-fire pace. And as e-commerce has continued to boom, traditional retailers like Forever 21 have struggled to adapt to changing consumer behaviors."
The retail apocalypse has caused many brands, like Sears and Big Lots, to file for bankruptcy and close thousands of brick and mortar stores across the U.S. Forever 21 is said to be the next victim of this. 
According to Business Insider, "a widespread shutdown of Forever 21 could exacerbate what's already being referred to as the "retail apocalypse," which has already closed more than 15,000 retailers across the US and could shut down 75,000 more, according to investment firm UBS."
Many girls at Academy shop at Forever 21 on a regular basis. They feel that since there is such a wide variety of clothes, it is easy to find a cheap outfit. Many girls shop at Forever 21 for last minute outfits for concerts and parties. 
Becca Sayad ('23), a regular Forever 21 shopper, said, "I was sad when I heard that Forever 21 was potentially filing for bankruptcy because they have cute clothes even though some of them have weird graphic designs on them." 
Forever 21's sales dropped by 25% in 2018. As a result of this, the company has began to close many stores across the U.S. These closures have sent the stores into a frenzy. The Forever 21 in International Plaza,  is having a sale right now with items marked off as much as 70% off. 
Joely Barkett ('20) said, "I went to Forever 21 last weekend and got three shirts, a pair of pants and a skirt for thirty-five dollars because of the huge sale they are having right now."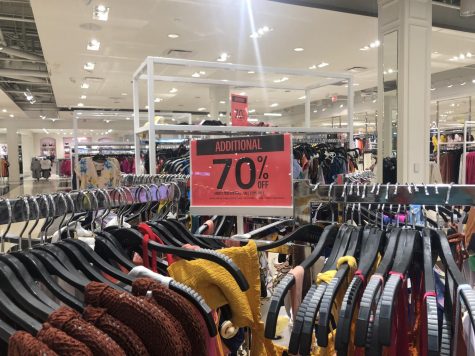 Forever 21 released a statement saying that they had no plans of filing for bankruptcy: "Our stores are open and it is our intention to continue to operate the vast majority of U.S. stores, as well as a smaller amount of international stores."
While many were sad to hear about the closure of hundreds of Forever 21 stores, Kimberly Egoavil ('23) was happy to hear that the retail giant could be closing for good in years to come. 
"I went to Forever 21 a few weeks ago and every time I saw a cute shirt, it had some cringey saying on it like, "I like tacos," and it's so annoying. There are so many other places to shop that have cute tops without the cringey sayings like American Eagle, Hollister and even Target," said Egoavil. 

Loading ...