Venice is Drowning and Climate Change is the Culprit
November 20, 2019
Over the last week, Venice, Italy, has been faced with some of the worst flooding that its citizens have ever seen. Venice sits on a tidal lagoon, just above sea level, and the water recently has peaked over six feet above its usual level- and many are blaming this on climate change. Accelerated sea level rise as a result of climate change is causing Venice to gradually go underwater, and, with it, many historical monuments and architecture. 
"I'm hoping that the recent flooding in Venice can open peoples' eyes to the reality of climate change. I feel like people often think of climate change as this abstract thing somewhere in the distant future, where the Earth is on fire or something, when that isn't true at all, clearly," said Claire Murphy ('20). 
In St. Mark's Square, where the flooding is the worst, many panicked shopkeepers are struggling to stay above water. Some people are using pumping systems and mops to keep the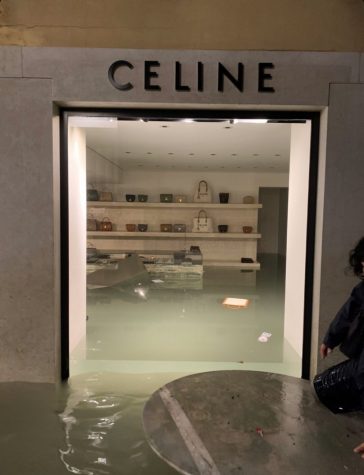 water at bay, whereas others have simply emptied their shops altogether. 
Museums have slowly been reopening their doors as the flooding subsides. Institutions such as The Basilica, Doge's Palace, and the Guggenheim Museum have reopened their doors and reportedly faced minimal damage. However, Venice's cultural landmarks may not be so lucky over the next 100 years as floods continue and become increasingly worse. 
Dorothy Pickard ('20) said, "It's actually really sad to think about, all of the art and architecture that could have been completely destroyed if the storms and flooding were worse. And if the state of the environment continues on the same path that it's on now, I think that could happen soon." 
The mayor of Venice has stated that climate change is the undeniable culprit of the flooding and described the situation as "apocalyptic". He estimates that the flooding could cause hundreds of millions of euros in damage, and has declared a formal state of emergency. Civil protection volunteers have strapped on their rubber boots and been deployed to help with the flooding in any way possible, even if it's just lining stores with sandbags. 
"It's hard to just sit back and watch this happen when there's nothing we can really do to help. I just hope that nothing super important is destroyed, and that the citizens of Venice can stay safe and do something to keep this from happening again," said Audrey Barnes ('21).
Flooding in Venice, fall 1979 – I remember the chaos and destruction. It was nothing compared to what is happening now. I hope that exquisite city can ultimately be saved. #veniceflood pic.twitter.com/YMbCdJi726

— Kym Karath (@KymKarath) November 13, 2019
While Italian officials and Venetian citizens are doing everything in their power to minimize the effects of the flooding, will it be enough? And will it be enough a hundred years from now? This flooding in Venice is an accurate portrayal of not only the prominence of climate change, but the magnitude of its scope and how many different things it can affect.