Soccer figureheads Michel Plantini and Sepp Blatter indicted on fraud charges after 6-year trial
November 12, 2021
In 2011, Michel Platini was the head of the Union of European Football Associations and was the expected successor to FIFA President, Sepp Blatter. He served as a presidential advisor in Blatter's first term as president from 1998-2002 and wrote to FIFA that he wished to be compensated for this work. $2 million worth of compensation, to be exact. Blatter agreed and instructed FIFA to make the payment as quickly as possible. The problem? Initiating this payment made Blatter guilty of fraud, mismanagement, misappropriation of FIFA funds and forgery of a document.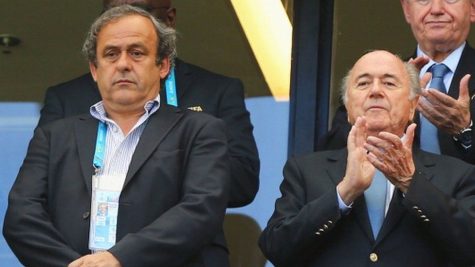 In 2015, Platini was also charged with "fraud, misappropriation, forgery and as an accomplice to Blatter's alleged mismanagement," according to ESPN. On Nov 2, the two men were finally indicted after a 6 year trial. Their defense was that the payment was for a backdated salary and was an oral contract that was approved by many FIFA higher-ups. 
Gabby Bahr ('22) said, "They manipulated the system and overshadowed the game with the business of it."
How are the mighty fallen!

And this is just the tip of the iceberg.
Looking at you Qatar, and those who voted for you !

Former FIFA officials Sepp Blatter and Michel Platini charged with fraudhttps://t.co/oheFHlg8ft pic.twitter.com/enjDKG4IWT

— Liam O'Neil (@lienomail) November 2, 2021
This is not FIFA's only scandal in the past decade. It was simply a piece of a larger puzzle of scandals which led to an ethics investigation into FIFA as a whole. Fraud, money laundering, and evidence of bribery to "influence the selection process for the 2012 FIFA World Cup host and the 2011 FIFA presidential election," according to The Donut. 
Allegedly, in 2010 Qatar did not fairly win the rights to host the 2022 World Cup. This event contributed to the commencement of the many investigations, specifically those relating to the bidding process. However, FIFA found no evidence with enough merit to strip Qatar of the hosting opportunity.
In response to these scandals, EA Sports is considering changing the name of the widely known video game FIFA.
Shelby Drinkwater ('22) said, "As a sports fan, it's difficult to see people manipulate the system. I'm glad that they are being held responsible, though."