Hunter Biden: the media's favorite person to protect and the Senate's favorite person to investigate
April 8, 2022
While Joe Biden grows increasingly overwhelmed over war and gas prices, he also must worry about the scandal looming over his son, Hunter. Over the past 10 years, Hunter Biden has been involved in business dealings with many overseas companies in countries such as Ukraine, Russia, China, and Kazakhstan. These dealings have been brought to light alongside the suspicious findings on the younger Biden's laptop. They were previously dubbed "Russian disinformation" but have recently been given merit.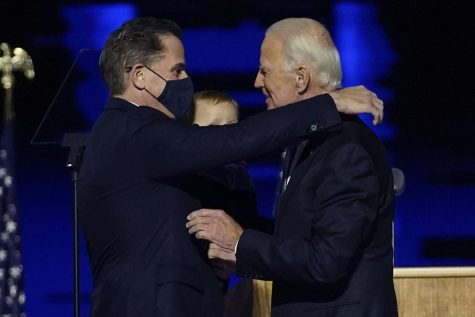 In late 2020, the Senate published a report detailing the concerns of the younger Biden's business dealings with the Ukrainian natural gas company Burisma. 
The Senate report details the odd connections between mass protests in Kyiv in 2013 – 2013 was the year in which then-Vice President Joe Biden was named the "public face of the administration handling Ukraine" – and Hunter Biden's joining of the board of Burisma. Burisma is a Ukrainian natural gas company led by a corrupt Ukrainian oligarch. The report then goes on to state how Biden was paid millions of dollars by this company over the next few years and that this position created "an immediate potential conflict of interest" that became an issue when implementing Ukrainian policy.
These "conflicts of interest" are referred to "the Henniges transaction." Henniges, a U.S. automotive technology company, was given to a "Chinese government-owned aviation company and a China-based investment firm with established ties to the Chinese government," according to the Senate report. The transaction was approved by the Committee on Foreign Investment in the United States under the Obama administration. It also included  a "billion-dollar private investment fund called Bohai Harvest RST (BHR)." The catch to this, as stated in the Senate report, is that the company BHR was formed by a merger between a firm called Bohai Capital (which has been linked to the Chinese government) and another company called Rosemont Seneca Partners (RSP), which was created by Hunter Biden. The young Biden created RSP with the stepson of former Secretary of State John Kerry (under Obama), Chris Heinz. 
The rest of the report goes on to detail how even though many U.S. officials were aware of the awkwardness that ensued due to Biden's business with foreign nations, nothing was done to combat it. They also condemned the protection of Hunter Biden by the Secret Service on many of these trips and specified the fund Biden was receiving from foreign political entities. These include over $4 million paid to Biden and a business partner of his, Devon Archer, by Burisma and other "foreign nationals with questionable backgrounds",  $142,300 from extremely influential Kazakhstan oligarch Kenges Rakishev (who also has ties to the disgraced Prince Andrew), and $3.5 million from the wide of the former mayor of Moscow. The report also states Biden used his funds to open a bank account and spend $100,000 on a "global spending spree" with James and Sara Biden, Joe Biden's brother and sister-in-law. 
According to ABC News, Biden has recently described his involvement with the company "poor judgment."
It seems as though the U.S. Government started looking into these overseas business ventures as a result of the discovery of Hunter's now infamous laptop. After spilling an unknown substance on his computer, Hunter Biden dropped off his laptop at a computer repair shop. The discrepancy occurred when he never went to pick it up, leading the owner of the repair shop to be subpoenaed by the FBI for the laptop in Dec. of 2019, according to the Washington Post. This laptop offered up even more information about Biden's overseas business and revealed many emails between Biden and his explicitly shady business partners. According to The Week, these emails "suggested he had been 'selling his high-level family connections' while working for a Ukrainian energy firm, possibly even securing a cut for his father."
While you would assume these very personal and suspicious claims about a presidential candidate's immediate family would affect public opinion so close to election day, this was not Biden's case. Instead, both the New York Times and Washington Post dismissed these claims as "Russian disinformation" and the story never took off before the election.  From the Washington Post, in 2020 Facebook and Twitter restricted  ​​posts "about the drive's contents out of concern that the revelations might have resulted from a nefarious hacking campaign intended to upend the election." When asked about Hunter's association with Ukraine during a presidential debate, the elder Biden claimed "nothing was unethical" and Hunter had not made any money "talking about China," according to The Hill. 
Shelby Drinkwater ('22) said, "I find it very surprising that there was not more media coverage regarding the Bidens' past history with China considering how influential China can be across the globe."
According to The Week, Hunter Biden had a target on his back for months before any of this information was revealed, and that Rudy Giuliani, Donald Trump's lawyer, "had spent months openly digging for 'dirt' on Hunter Biden." However, this does not explain why this news was not thoroughly reported on from the beginning. While the New York Times and Washington Post claim they cannot rule out the possibility of the computer being hacked and fake email accounts being responsible for these messages, this theory seems unlikely due to the insignificance of Hunter Biden before this scandal was leaked and his tendency to stay out of the public eye to avoid negative press about his drug addiction and relationship with his deceased brother's widow after his passing. 
Hunter Biden is now on notice: My colleagues on the House Judiciary Committee and I have officially warned him not to delete or destroy any evidence of coordination and collusion in the coverup of his laptop scandal.

— Rep. Darrell Issa (@repdarrellissa) April 6, 2022
That being said, some politicians will do whatever to win, and with the unlimited power and resources Trump had as a sitting president, we cannot rule out that it was his plan all along to bring down the Biden he was competing against by using his son and planting emails. Even so, this too seems unlikely and has not been proven nor mentioned in the press.