Black Friday sales fluctuate as changes occur in the economy
December 1, 2022
Since Black Friday's beginnings in 1951, sales have continuously decreased and many consumers today opt out of Black Friday shopping. Although several people aiming to make purchases still flood malls every Black Friday, the holiday is beginning to lose popularity as stores lessen their sales.
The term "Black Friday" was first used to describe the crash of the US gold market in 1869, but would later evolve to refer to the shopping event that occurs every Friday after Thanksgiving day. The most common origin story of Black Friday is that retailers thought after operating in so much loss in profits, stores would finally be able to earn a profit due to the large wave of consumers that came in the day after Thanksgiving. At this time, retailers marked numbers that were losses in red and marked profits in black. Therefore, the idea is that "Black" Friday refers to the increase in profits that happened on that day. By the late 1980s, the name "Black Friday" was seen with a positive connotation and viewed as a day to contribute to the success of the US economy.
Since its humble beginnings in 1951, Black Friday has gained popularity and the holiday is now celebrated by shopping enthusiasts throughout the US. However, over time sales have become underwhelming. Closer to its startup, Black Friday sales were huge sales that brought everyone in the door looking to do some early Christmas shopping. Over time, Black Friday sales have evolved to be much smaller discounts that, for many stores, are not dissimilar to year-round sales.
 According to a poll taken by Achona's Instagram, 52% of students who responded took part in Black Friday shopping, whereas 48% did not. One explanation for this is the impact the Covid-19 pandemic had on the economy. Continuous supply chain issues took root during the height of the lockdown and many businesses are still struggling to make ends meet. This has resulted in many businesses lessening their sales because they cannot afford to lose as much money. 
Is it just me or are Black Friday sales this year so bad in general

— Dani 🕰️ (@dazzlinglover) November 24, 2022
Another explanation is recent inflation and increased shipment prices. With products that are getting more and more expensive, many consumers choose to opt out of buying things they don't necessarily need (such as Black Friday items). This has led to a decrease in Black Friday shoppers in the years following the pandemic. 
Alana Young ('23) was a part of the AP Microeconomics class last year and said, "After learning so much about the pandemic's continuous effects on the economy, it does not surprise me that Black Friday has also taken a hit. It's kind of disappointing that Black Friday isn't as exciting as it used to be. My mom used to go Black Friday shopping every year, but now she says the deals just aren't worth the amount of effort she has to put in."
Adele Politz ('23) went Black Friday shopping at International Plaza in South Tampa. Politz says she went to Uber Outfitters, Abercrombie & Fitch, Free People, Lush, and Sephora. Overall, Politz had a very disappointing shopping experience at International Mall and says the deals were underwhelming and did nothing to improve her experience. Politz said, "Everything was all over the floor and it was kind of disgusting. Urban Outfitters was insanely packed and it was overwhelming. I did not really have a pleasant shopping experience and the deals were not good enough to make it worth such a hassle." 
However, Politz said she by far preferred her online shopping experience. In-store Black Friday shopping is notorious for its discord and insanity. However, many stores are currently offering similar sales to their in-store locations on their websites. This option is far more convenient for those who cannot make it to the physical store, but still want to take part in the Black Friday sales. In addition to its convenience, online stores often have a wider stock and more options to choose from. These benefits incentivize many shoppers to shop online and deter people from shopping in-store.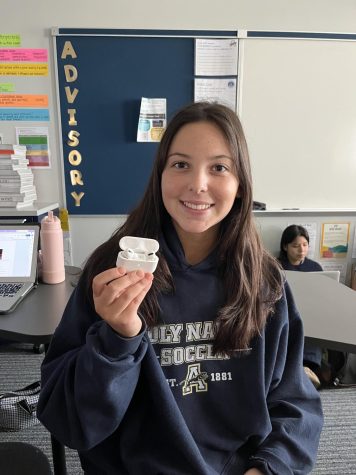 On the other hand, Martina Bain ('23) did not go Black Friday shopping this year. Bain says, "Black Friday shopping can be very stressful and usually the lines are too long. I prefer to watch a Christmas movie, drink hot chocolate, and order on cyber Monday in my pajamas." She Black Friday shops most years however this year she was traveling around the holiday. In Bain's opinion, which she shares with many, she did not think the deals were worth the early wake-up call, inconvenience, and chaos associated with the holiday. Instead, Bain did as many others chose to and did her Black Friday shopping online. Bain thinks online shopping is a wonderful alternative to shopping in-store and she reports that she may completely switch from in-store to fully online shopping next Black Friday. "It's just going to be so hard to get myself out of bed early and acknowledge that I'm walking into pure disaster when I know I can easily log onto my laptop and quickly find all the same deals with more stock options. I had a great experience with online shopping this year!"
According to Beth Chase, an economics teacher at Academy, although the Black Friday deals this year seem underwhelming, they have actually improved in the past few years. This is because the past few years have been enveloped with economic problems after the pandemic: supply change issues, workforce issues, and inflation. However as things are starting to get back to normal, the supply chain has caught back up with the stores. Chase said, "The supply chain has caught up, so they have so many things they didn't have before and stores have to get rid of them. That's why there are better sales this year than in the past few. They want to sell it themselves instead of giving it to places like Marshalls or TJ Max." 
View this post on Instagram

This Black Friday, sales were $9.12 billion on Friday and $11.6 billion on Cyber Monday. However, during covid stores had to completely adjust how they conducted their Black Friday sales to fit quarantine protocols. This made online shopping more common on Black Friday and now many choose to just shop online rather than in person. According to Chase, "Prices of goods have gone up and people's wages have not, so people know how much they can spend and aren't willing to spend it on unnecessary things." This is discouraging many people from unnecessary spending on Black Friday. 
Although sales might be getting back to normal, many individuals are still struggling to find their way back to how things were before Covid. Credit card debt is the same now as it was in the 2008 recession, which means many consumers are struggling to make ends meet and do not have excess money to spend on Black Friday shopping. 
Although many Black Friday deals seemed to be disappointing this year, many students still enjoyed shopping and the option of online shopping has made the holiday's discounts far more accessible.