Chinese citizens lead uprisings against COVID regulations
December 14, 2022
On November 25, 2022, an eruption of protests occurred in China, following the devastating fire in an apartment building near the northwestern city of Urumqi, leaving 10 dead and nine injured. Lockdown restrictions around the area left many citizens stuck and locked up in their homes for months before being able to go outside again.
The flames of the fire engulfed many living on the 15th and 17th floors leaving the apartment buildings burning for more than 3 hours. Much of the deaths resulted from residents having inhaled toxic fumes that spread as a result of the blazing fire.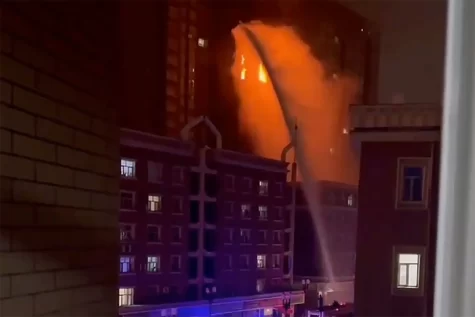 The fire was the result of a power strip sparking in one of the 15th floor complexes. One video spread throughout the internet showed a fire truck missing the place of where the actual fire had been burning. The event caused much backlash within the country, where many people questioned whether first responders were unable to evacuate citizens due to locked doors or even COVID restrictions set up. Angered civilians took up to the web comments on how fire trucks were blocked by pandemic control barriers or simply by cars that were left stranded while their owners were put in quarantine. It is still unclear what blocked the fire truck from spraying down the fire.
Since the start of Covid-19, many lockdowns and restrictions had been set up throughout the country. Many districts had been placed in lockdowns and restrictions that limited cross-district travel, gave permission to leave residences once every few days, and forced civilians who had tested positive to be placed in quarantine centers or hospitals (meaning anyone they are near, including neighbors, would be mandated to stay in their residences). With the zero-COVID policy, the Chinese government shared the policy is meant to control of outbreaks using mass testing and work towards a future with zero Covid cases.
Since the disastrous event, many protests have occurred in cities such as Shanghai and Beijing, demanding for looser COVID restrictions. Since the many protests, a significant event has occurred where citizens are now able to board buses and subways without a virus test for the first time in months. Fighting against the "zero-COVID" policy, though, has not been easy for many protesters.
Yaqui Wang spoke to Fox News about the struggle people faced from the aftermath of these protests, and said, "I heard of sources telling me that they went into the protest scenes, and they thought they were anonymous. But later they were visited by the police."
Raided by the state in broad daylight in your own home!
That is China at the moment.#China #ChinaProtests pic.twitter.com/pTOthWmy5i

— 247ChinaNews (@247ChinaNews) December 1, 2022
With much restrictions having been placed in the past few years, Chinese civilians have grown tired of the isolation and constant control that had been pressured into their lives. This is just the beginning, the beginning where civilians will grow a hold on their lives.