Train derailment in Ohio causes health concerns
February 24, 2023
On February 3rd,  a chemical contamination was found on creeks near the site of the East Palestine, Ohio, after a large train derailment and chemical leak.
 Experts tell USA TODAY that the rainbow-colored material contaminating the area is vinyl chloride, a heavier-than-water chemical that both leaked and burned following the derailment of a Norfolk Southern freight train. The crash has caused heightened health and environmental concerns in the wake of the disaster.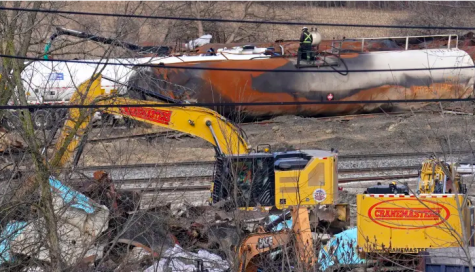 Authorities say about 3,500 small fish were killed in the creeks surrounding the derailment site shortly after the crash, leak, and burn, but they have not reported significant subsequent deaths. Meanwhile, a new federal lawsuit claims  fish and wild animals are dying as far as 20 miles away from the site of the derailment.
The Environmental Protection Agency oversaw the response to the incident on February, and ordered the train operator Norfolk Southern to clean up contaminated soil and water at the site, as well as attend all public meetings with local people.  Despite the fact that no fatalities or injuries have been reported, locals have demanded answers concerning health hazards and blamed Norfolk Southern, state, and federal officials for a lack of information about the disaster.