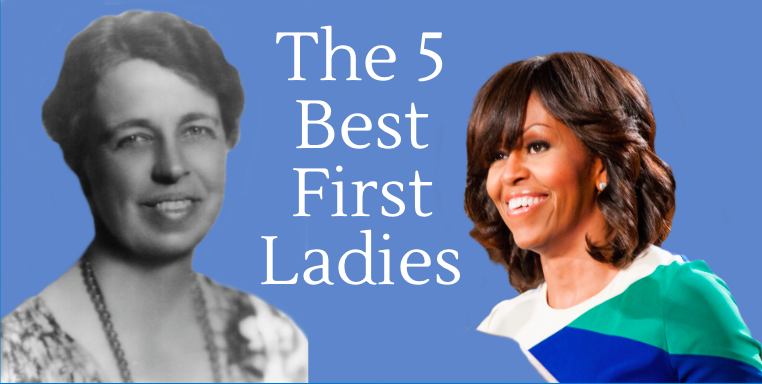 The Five Best First Ladies of the United States
October 24, 2016
5.  Abigail Fillmore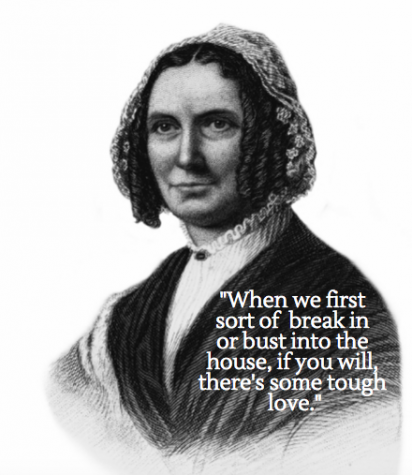 Abigail Fillmore broke many stereotypes surrounding what it meant to be a First Lady of the House. She was the first First Lady to not be from a noble or upper class family, and the first First Lady to keep her job, teaching, after her marriage. Fillmore grew up under the tutelage of her widowed mother, who had little money, but was able to teach her and her brother from her late husband's expansive personal library. Abigail Fillmore met her future husband Millard Fillmore at a school in New Hope, Pennsylvania, and they were married seven years later. Millard was also from a poor family, but had a similar fire for education and became a lawyer. This paved the way for him to become Vice President of the United States, and when Zachary Taylor died mid-term, he was sworn in as President. In her three years as First Lady, Abigail Fillmore cultivated a fruitful garden, and lobbied for a White House library in the second floor of the oval office. Although she is not credited with actually ordering the books (Charles Lanman, assistant to the Secretary of State did this) her persuasion was enough to will the library into being, and she is responsible for ordering the furniture and shelving for the library.
Betty Ford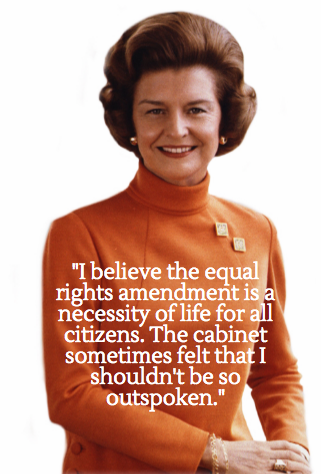 Elizabeth Ford was raised in an affluent family in Grand Rapids, Michigan. She was a dancer from a very young age, and opened her own studio to teach kids while she was still in high school. When she was 16 her father passed away due to carbon monoxide poisoning, and her mother had to support the family with her job as a real estate agent. Seeing her mother struggle in her father's absence made her a strong supporter of equal pay for women in the workplace.
Ford continued with her love of dance, studying under top choreographers and performing in famous theaters. She offered dance classes to African American children and children with disabilities, which in 1941, was unprecedented. Ford married her second husband, Gerald Ford, in 1948 and he became the President in 1973 after the resignation of Richard Nixon, making her the First Lady. She was very outspoken about women's rights to equal pay, divorce, and abortion on radio talk shows, and TV programs like 60 minutes. She raised the eyebrows of some uber- right wings, but her overall approval ratings skyrocketed due to her honesty, something that would have been especially appreciated in this era of distrust after the Watergate scandal. She lobbied for the Equal Rights Amendment, campaigned hard for her husband's reelection, and raised awareness for Breast Cancer, which she herself had. After leaving the White House, Betty Ford struggled with her increased addiction to alcohol and pain pills. She was intervened on, went through therapy, and eventually was rehabilitated. She used her influence as former First Lady of the House to draw attention to this taboo issue. She opened the Betty Ford Center, a place for women to recover from substance addiction.
Hillary Clinton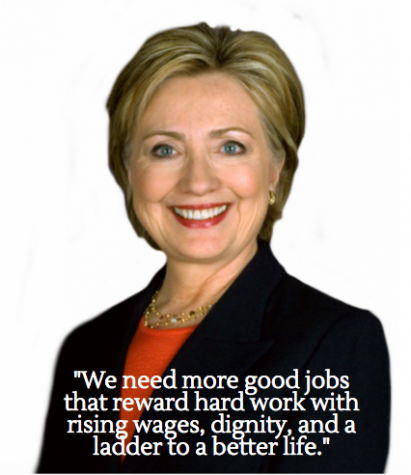 Hillary Clinton was born and raised in Illinois, went to Wellesley College where she majored in political science, then went on to earn a law degree from Yale University. She served as First Lady to her husband Bill Clinton, whom she met in law school, from 1993 to 2001. Her parents were unwavering Republicans, but after having an active role in student politics in college and observing the election of 1968, she identified herself as a Democrat. If Hillary is one thing, it is consistent. She has always championed children's issues and health care from the infancy of her political career. Right after college she spent a year working at the Yale Child Study Center. After that she worked at a law firm in Arkansas where she was a co-founder of the Arkansas Advocates for Children and Families. There, she was also chair of the Rural Health Advisory Committee and the Arkansas Educational Standards Committee. Upon becoming First Lady, she led of the Task Force on National Health Reform, and was instrumental in the creation of the Children's Health Insurance Program and the Adoption and Safe Families Act. She also is responsible for raising several million dollars for the reconstruction of the World Trade Center after the terrorist attacks of 9/11.
Clinton is another political figure to have many "firsts" attributed to her name. She is the first First Lady to serve in elected office (senator), the first woman senator from New York, and the first woman to win the presidential nomination.
Eleanor Roosevelt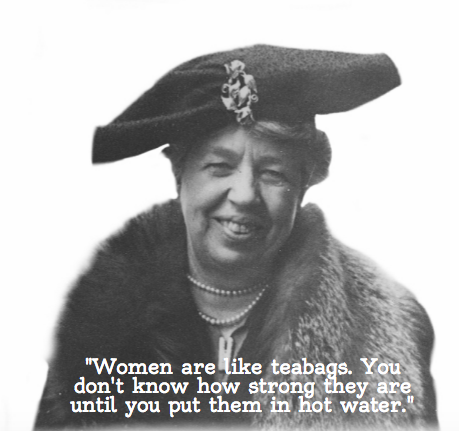 Eleanor Roosevelt was a champion of the rights of minority groups. She was an outspoken First Lady who used her voice for those who did not have the means to speak out, or the influence to get people to listen such as veterans, women, children, the poor, and ethnic minorities. She held press conferences, traveled to give speeches, and ha her own newspaper column called My Day, where she discussed current events, activism within the White House, and issues of human rights. She also worked with the League of Women Voters, encouraging women to get to the polls. After her term as First Lady, Roosevelt worked for the United Nations, and earned the title of chair of the U.N.'s Human Rights Commission. While in that position, she was one of the authors of the Universal Declaration of Human Rights. In the early 1960s, she was chosen by President John F. Kennedy to serve on the National Advisory Committee of the Peace Corps and as chair to the President's Commission on the Status of Women.
Michelle Obama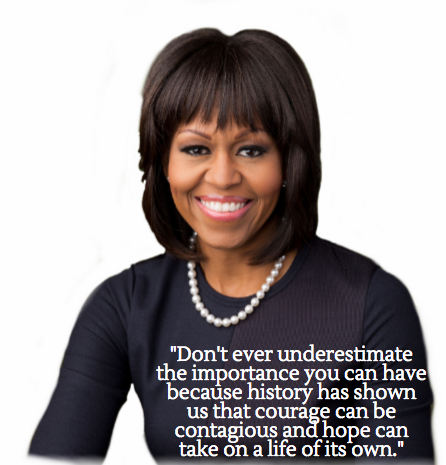 Michelle Obama was born and raised in Chicago Illinois, and went to public high school. She then attended Princeton and majored in sociology and African-American studies. After undergraduate school, she earned a law degree from Harvard University and began working for a law firm back in her hometown of Chicago. This is where she first met future husband Barack Obama, whom she married in 1992. Also while in Chicago, she was an assistant director in the construction of Chicago City Hall, the founding executive director of the Chicago division of Public Allies, and she began the first ever service program at the University of Chicago. Halfway through her husband's first term in office, Michelle Obama organized a national campaign called Let's Move! to combat childhood obesity. The next year, she put into motion a plan called Joining Forces to support current military and veterans in finding education, jobs, housing, and healthcare. In 2014, Michelle Obama began the Reach Higher campaign, which sought to influence children to pursue education beyond a high school diploma. Last year, Michelle Obama launched a campaign called Let Girls Learn. She uses this platform to implore countries around the world to advocate for the education and empowerment of their women, and to inspire women in the United States to dedicate themselves to their education.