Is it Worth Going to Concerts Anymore? (OPINION)
December 17, 2019
Sociologists recognize the issue for artists showing up late to their own concerts, calling it a "collective action problem": a problem in which a group of people with a common goal fail to accomplish that goal because of misaligned incentives or a lack of trust between parties.
Patrons typically show up later to an event than intended, and from the band's perspective, the choice is simple: wait as long as possible to start the show, since patrons tend to show up later and bands prefer to play in front of more people rather than less. Bands are waiting for patrons to show up and patrons are waiting for bands to play in an iterated game that everyone always loses, pushing show start times later and later.
This collective action problem is not the case for artists who are notoriously known for showing up hours late to their own concerts, leaving patrons more frustrated than ever. In May of 2016, Lauryn Hill showed up almost three hours late to her own concert. This was not the first time Hill had shown up inordinately late to her own concert; she is notoriously known for late arrivals. In this particular case, however, she received so much backlash from fans that she posted a prolonged apology on Facebook.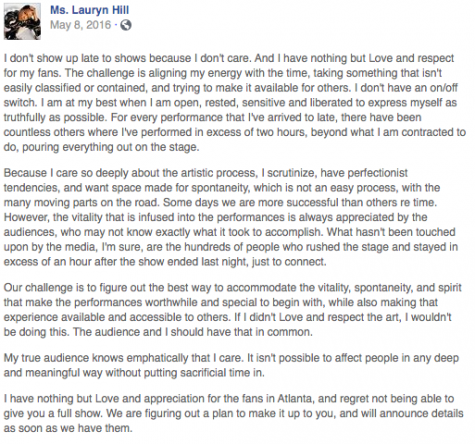 Hill again showed up excessively late to a concert in Pittsburgh, Pennsylvania –and the result– more enraged fans. NJ.com reported that, at around 11 p.m., many of the frustrated fans inside of the concert hall started lining up to try and get refunds for their tickets. But at right around 11:20 p.m., Hill finally made her way into Heinz Hall and eventually took the stage to perform. The show reportedly ran until around 1 a.m., and while most of the fans who had purchased tickets for the concert had reportedly left by that time, it sounds like Hill still managed to put on a good show.
Hill is not the only renowned artist guilty of this act. In August of 2017, famous pop star Lady Gaga was scheduled to go on stage at 7:30 in Omaha, Nebraska. This was not the case: Gaga took the stage at 9:02 pm, more than an hour and a half late, with no announcement given to denote the delay. 
This is not the first time Gaga has shown up late to her own concert: Gaga, like Hill, is notoriously known for arriving late to her own concerts.
Similar popstar to Gaga, one of Madonna's superfans has filed a class-action lawsuit against the "Queen of Pop" in the U.S. due to the artist pushing back her Miami concert two hours, something she has apparently made into a habit of doing.
90 minutes late … so disrespectful to the 17,000 people here.

— Kim Knoll (@kimcknoll) August 20, 2017
Reports that #Madonna took the stage at about 12:30 a.m. at the Colosseum last night/this morning. She is famously late to the stage, but this might be some sort of record. Historically, Bob Anderson made a career of post-midnight starts at the Top of the Dunes … #Vegasville.

— John Katsilometes (@johnnykats) November 8, 2019
Another famous pop star, Justin Beiber, arrived two hours late to his own concert because he "was playing video games and threw a tantrum." Right before the concert was expected to start, Beiber told friends and family, "It's my concert, I will go out when I want to." 
According to backstage sources Justin, 19 years old at the time, was in a foul mood after waking up late because of a night out and the '"stroppy youngster locked himself in his dressing room to play computer games."
Despite being accused of coming onstage two hours after he was billed to, with hundreds of upset teenagers leaving before getting the chance to see their idol, Justin said he was only 40 minutes late on Monday – blaming technical difficulties and that the gig was 'great'.
One O2 worker, who did not want to be named, told The Sun: "He was arguing with members of his management, his family. It was a really uncomfortable atmosphere. His attitude was, "I'm the star and I can do what I want."
Another backstage source added: "His lateness was because he didn't get out of bed until late and sat in his dressing room playing games – even though his door was being knocked. He then threw a strop as he said he wanted a shower first, despite already being late."
"They were playing Michael Jackson song, after song, after song — it was so annoying. Everyone was on edge and as more time passed, everyone was getting more worried and booing," one of his fans recalled.
Another worker, Ellie Grace, said: "I hope I never have to experience so many upset children and disappointed fans again." 
A 15-year old fan – who did not want to be named for fear of backlash from the Belieber community – was 'blanked' by her musical hero even though she had won a competition to meet him before the show.
The unhappy girl told Heat that she and her friends, waited for three hours to see Justin. However, when their idol finally arrived, they say he spent 'less than ten seconds' with him. She also claims the singer declined to give her a hug, ironically telling his fan 'I don't have time.'
Is it even worth going to concerts?
Given the unmindful and egotistical attitudes of the artists who notoriously arrive hours and hours late to their own concerts, is it worth giving your money to artists with the discourteous attitude of: "It's my concert, I will go out when I want to?" 
This question can be answered depending on the patron. Some may not mind the wait, claiming it only makes them more enlivened for the anticipated artist to make their way to the stage.
"Showing up to concerts may also have a reverse effect on the audience, making them more excited for the anticipated artist, rather than annoyed, since they are anxiously waiting for hours on end," said Carmen Harrell ('20). 
The majority, however, are repulsed and turned off by the action of artists showing up late and their undeniable self-centeredness. 
"I find it extremely disrespectful and annoying when artists show up excessively late to their own concerts. Unless there is a valid reason, there is just no excuse to waste your fans time who probably spent boatloads of money to see them in person," said Tess Ricco ('20).
Regardless of preferring anticipation or thinking arriving late is downright disrespectful, these tours are well-oiled machines that the artists get paid immensely to do. At the very least, these artists should be professional enough to be on time. Tardiness does not have to lead to a lawsuit, but, unless a reasonable excuse is present, the artist should at least be disowned to some degree and state a genuine apology. 
What if it is a case in which it is a school night for Beiber's fans? Families pay fortunes to have their children attend these concerts, only to leave early because it is too late. This irritant takes a great toll on those who put their time and money into a costly, drawn-out show.